Sound Trooper the Killing Machine of Dancehall

Ricky Trooper or Sound Trooper is one of the baddest sound system/selector in the dancehall clash world today.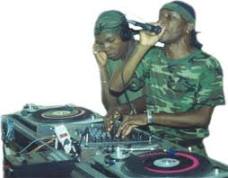 Trooper was born in a small town in St. Mary call Mount Regale. At the age of eight (8)after moving to live in Spanish Town he was introduced to his first sound system by the name of Coptic Hi Power.
He was taught the art of the dancehall sound system industry by Copey the owner of Coptic Hi Power.
For a short while he put his first love selecting on the back burn and started deejaying, this land him a job as a deejay on the legendary Kilamanjaro also known as Jaro sound system.
He was now working alongside the like of Ninja Man, Bunny General, Papa San and Lecturer.
He again started selecting this time on Jaro, and this led to him using Kilamanjaro to kill a number of sound system earning the sound the nickname "The Killing Machine".
Ricky is known well known for creating his own style of Dub Plates and this led to him helping artists such as Sizzla, Luciano, Garnett Silk and Anthony B to be famous in the clash world.
In 2000 he parted ways with Jaro to formed his own sound system, this is now one of the most feared sound system and is said to be just as bad as Kilamanjaro.
Some of the sounds which have felt the wrath of Ricky Trooper are:
King Addies, Body Guard, Stone Love, Metro Media, Bass Odyssey, Black Kat, King Jammy's, Mighty Crown, David Rodigan among many others.

We value your feedback
Share your views, comments, or your take on this? Share it!
What Other Visitors Have Said
Click below to see contributions from other visitors to this page...

Famed Selector Ricky Trooper Makes Sound Chat Radio Debut‏‎

Show Airs Every Monday 10 PM-12 AM on Irishandchin.com New York, New York -- March , 2015 -- Famed selector Ricky Trooper has officially joined …

Ricky Trooper plans Tag Team Sound Clash Not rated yet
With the absence of the popular "Death Before Dishonour" sound clash, veteran selector Ricky Trooper will be trying to fill the void with the staging of …