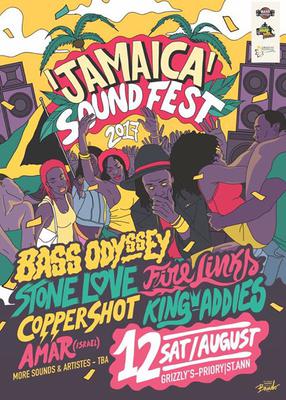 Bass Odyssey Sound System "The Original Killing Machine"
The sound was started back in 1989 by Keith Walford, who later partnered with Bunny Hayles to form the world renown Bass Odyssey.

After selecting his sound for a number of years, Keith decided that he needed to get some selectors to do job.
Thats when the original team of Tinna One, Glamma G, and the late Squingy who died in 2009 came together.

This sound not only plays at sound clashes, they are also a party sound.
In addition to weekly appearances in Jamaica, Bass Odyssey also performs in the Caribbean, Central America, the United States, Canada, Europe and Japan on several occasions.

Odyssey as it is sometimes call has a new team of selectors, as the original selectors has moved on, some on sole career.

The new selectors are Mark, Worm, Charly Black, Dj Lexxy, Dwayne, Dj Keithy, Speng, Shane, Harry D, Villy and Dj Rat.

They have played and won the UK Cup Clash in 2006, 2007 and 2008. Most recent in 2009 Odyssey won the Guinness Sounds of Greatness competion held in Jamaica.

They have also won the Irish and Chin world clash which used to be stage at Pier One, Montego Bay a number of Times.

If you should attend one of these sessions where this Odyssey's system is playing, you will be in for a treat. From hardcore dubplates to top class juggling.

And as the name state, this sound system has a very heavy Bassline.

For booking please contact CEO: Keith Walford Snr: 1(876) 389 2568,1 (876) 975 1034
The 2017 staging of Jamaica's Sound Fest is set for August 12 at Grizzly's Priory, St. Ann, Jamaica. Sound Systems that was booked for this major festival were: