Dancehall reggae artiste Babeedoll
by SHELDON THOMAS
(BROOKLYN NEW YORK)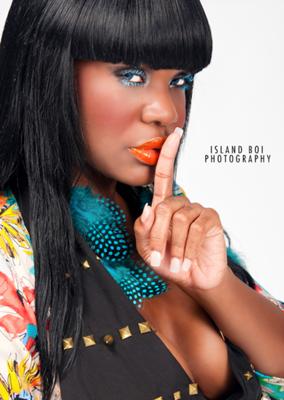 There are people that surrounds us in our everyday lives that are very special and who possess special gifts and outstanding qualities.


They are given specific talents that are suitably appropriate for their character, style and personality.
One such person is none other than a very beautiful,energetic, smart and vibrant entertainer,Miss Terry , popularly known as "Babeedoll".
BabeeDoll was born in Montego Bay and raised in Hopewell Hanover in Jamaica, Then migrated to New York City, USA as a teenager where she still lives with her family.
At 5 foot tall, she is a pint-size entertainer with a very powerful and velvety voice. She is determined, hard-working and is very focussed on her path to super stardom.
This young entertainer who was always interested in show-casing her talent burst on the music scene in 2007 with her first single, "Dutty Jam," at that time the artist was in a group called Fantasy Dolls.
Ever since then she has been in the studio and performing at various shows is now finally getting her breakthrough, locally and internationally.
She formerly spelled her name "Babydoll" has put a flip on her name to avoid Trademark and Copyright Infridgement.
The young and talented artist has performed on several shows in the New York city area including Brooklyn, Bronx, Queens, Manhattan and Long Island areas.. She has also done numerous gigs in clubs, street shows, etc. across the usa including Connecticut, florida, new jersey etc . Babeedoll has worked with some of the most talented artists in the business; artist like Macka Diamond, Ginjah,Blacker Ranks aka Blacker Hyper, Rising Star L.Razor, Shay and Dqure to name a few.
Presently the talented artist teams with Dj Satdayz from Good Good Productions and Producers like Brent - (Faraoh), Platnum Producer Marlon'Pirano' Cooke and she is also a business partner with Straight Hits Records from Brooklyn New York.
"Everyday i pray to the father for more knowledge, strength, wisdom to protect and guide
me on the right path". These are words from the mouth of Miss Terry also know as Babeedoll .
"There are quite a few other Artists that i would love to work with in the future; artist including Beenie Man, D'Angel, Spice, Lady Saw, Movado, Kiprich,Shaggy, Barbie,Tifa, Tami chin, Just to name a few " said Babeedoll..
In order to keep up with the stiff Competition in this Reggae/Dancehall Industry Babeedoll has a very strict workout exercise routine along with a healthy eating habit . The Singer, who is also versatile on the floor, love to dance to songs from Reggae, Rap, R&B,as long as the music is great, she will move to it.
Babeedoll has stated that her Musical influence has come from Bob Marley, Then Lady Saw and The Diva Spice. Currently the Artist is Unsigned but runs her own Recording Label T&M Records Which was just launch in July, 2011 and has just put out the first single from Babeedoll and Blacker Hyper, A Song Titled, "DEEP SITUATION AKA TWO MAN."This Song Is Getting Heavy Rotation on Radio Stations Across The World.
But Currently has been more Popular in her Native Country Jamaica, on Irie Fm, Links Fm, Zip Fm, Fame, RJR, Hot 102 etc.Putting in the hard work in 2011 Rising sensation Babeedoll has also scored her first #1 hit on Hype tv vtx chart and peak #2 on Cvm hitlist chart.
You can look out for a few more singles from this Promising Artist -- Songs like, "We Want Our Own, "Ina Me Home", "We Taking Over",Unlocked and quite of few from various other Producers.
Her music is also for sale on Itunes, Aazon, Napstar, Emusic and all other online distrubutors.
You can find babeedoll almost anywhere on the net from Reverbnation.com/Babeedoll, Facebook @Babeedoll, Myspace.com/Babydoll, Twitter @Babeedolllife and Youtube.com/Straighthits
For booking and contact info. PLEASE EMAIL POYSER.TERRY@HOTMAIL.COM, LRAZORNY@GMAIL.COM, Straighthitsrecords.com or Simply call 917-753-0371 . THANKS FOR READING -- TELL A FRIEND.