Stay up-to-date with all that's new at Dancehallreggaeworld, Click Here to subscribe for my updates and don't miss a thing!  

Bunny Wailer In Militant Mood about Feud With Snoop Lion

Bunny Wailer - Dressed in camouflage-patterned army fatigues with black combat boots, legendary musician Bunny Wailer was in a militant mood when he visited the Jamaica Observer's Kingston office last week.
He wanted to set the record straight about his feud with American gangster rapper-turned-reggae artiste Snoop Lion.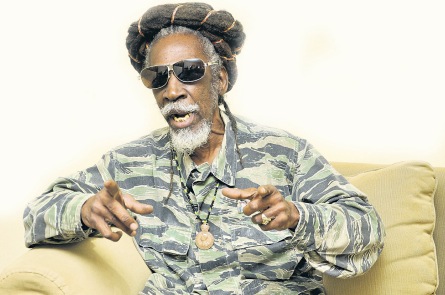 Wailer — who is releasing a 50-track commemorative album entitled Reincarnated Souls next month — is fuming that the artiste formerly called Snoop Dogg "illegally" used footage of their meeting in February 2012 as a launching pad for his film Reincarnated which was released in the United States last Friday.
Wailer is a founding member of the Wailing Wailers which included Bob Marley and Peter Tosh.
The Blackheart Man singer explained that his requests were set out in a contract, which the artiste signed, in addition to a subsequent letter.
Wailer said the 41-year-old Snoop Lion, whose real name is Calvin Broadus Jr, breached their contractual arrangement when footage of their meeting was released.
According to Wailer, the get-together "should not have been filmed" and anything done would be the "private property" of both artistes.
Wailer and Snoop Lion have recently been embroiled in a war of words. The American publication, The Huffington Post, last week reported that Wailer "is the most notable sceptic" of Snoop Lion's conversion.
In response, Snoop was quoted: "'If I was Snoop Dog: (Expletive) Bunny Wailer. But I'm Snoop Lion right now, so I'm chilling.'"
"I don't mix up in any slimy argument," Wailer told the Observer. "All I did was to call him a lion."
He explained how Snoop's new moniker came about.
"We in Jamaica nuh glad fi call nobody dog. Although he had this name and was internationally known as a dog, I could not relate to him as dog. So I related to him as a lion. And, I'm still going to be relating to him as a lion," Wailer said. "I didn't know he was in motion of getting involved in reggae music and in the Rastafarian faith. So when I called him a lion, it added to his aim and objective of being a Rastafarian."
He said he made several calls to the artiste and they have all gone unanswered.
"When I called Snoop a lion, I left it at that. I did not go to say to Snoop, 'now you are called a lion I want some money'," said Wailer, who turns 66 in April. "If he's involved in the Rastafarian faith, he must make contributions to the development of the faith."
The hierarchy of the Rastafarian Millennium Council also has a bone to pick with Snoop.
"We signed an agreement in February, 2012," said Robert 'Prophet Greg' Mogg, general secretary of the Ethio-Africa Diaspora Union Millennium Council, often referred to as the Rastafarian Millennium Council.
The council, formed in 2007, unites the various Rasta mansions and protects its intellectual property.
Mogg said in addition to a film, Snoop expressed a desire to embrace the faith and met with members of the Nyahbinghi House in Scots Pass, Clarendon.
According to the contract, the film was not to be released without Nyahbinghi's approval.
"The film premiered at the Toronto Film Festival in September last year. He has now gone into merchandising... another breach," Mogg said.
He added that a seven-page letter was sent to Snoop on March 1. This went unanswered.
"This is a violation of our intellectual property and we have to safeguard our culture," he added.
Mogg said Snoop had sent a small minibus as a gift to Nyahbinghi House but that was not part of their contractual arrangement.
Wailer stridently defends the faith he accepted 40 years ago.
"The Rastafarian doctrine is not something that someone can act, pretend or seem to be. It is one that exists through His Imperial Majesty Emperor Haile Selassie I and who Rastas see as the substance of their existence... It's not something you can play with."
More information about Bunny Wailer

Neville O'Riley Livingston O.J., better known as Bunny Wailer, and also as Bunny Livingston and affectionately as Jah B, is an original member of reggae group The Wailers, which also included Bob Marley and Peter Tosh.
Bunny had originally gone to audition for Leslie Kong at Beverley's Records in 1962, around the same time Bob Marley was cutting "Judge Not". Bunny had intended to sing his first composition, "Pass It On", which at the time was more ska-oriented.
However, Bunny was late getting out of school, missed his audition, and was told he wasn't needed. A few months later, in 1963, he formed The Wailing Wailers with his stepbrother Bob Marley and friend Peter Tosh, and the short-lived members Junior Braithwaite and Beverley Kelso.
Bunny Wailer toured with the Wailers in England and the United States, but soon became reluctant to leave Jamaica. He and Tosh became more marginalized in the group as the Wailers became an international success, and attention was increasingly focused on Marley.Bunny subsequently left the Wailers in 1973 to pursue a solo career after refusing to tour when Chris Blackwell wanted the Wailers to tour freak clubs in the United States, stating that it was against his Rastafari movement principles.
After leaving the Wailers, Bunny became more focused on his spiritual faith. He identified with the Rastafari movement, as did the other Wailers. He has also written much of his own material as well as re-recording a number of cuts from the Wailers catalogue.Bunny Wailer has recorded primarily in the roots style, in keeping with his often political and spiritual messages. 
The album Blackheart Man is a good example of his roots reggae style, while "Sings the Wailers" successfully reworks many of The Wailers songs with the backing of top Jamaican musicians, Sly and Robbie. He experimented with disco on his album Hook Line & Sinker.He has also had success recording in the typically apolitical, more pop, dancehall style. He has outlived his contemporaries in a culture where death by violence is commonplace.
Pages Related to Bunny Wailer

Return To Dancehall Reggae World homepage from Reggae veteran Bunny Wailer page

Want to learn more about Reggae Music? check these pages below...
New! Talk to me
Was the information helpful? Something needs changing? I welcome your feedback here.

Great Articles You Might Have Missed
Please send us your Feedback, News, Photos, Press Releases, Music and/or Videos to our WhatsApp Number: 1-876-395-8008 or Email: necoflex@gmail.com


Not what you are looking for? Search the web for more Dancehall Reggae music information below...
Researched Information pages