Roots Reggae singer Peter Tosh

Reggae Singer Peter Tosh born Winston Hubert Mcintosh on 19th of October 1944 in Petersfield, Westmoreland, Jamaica.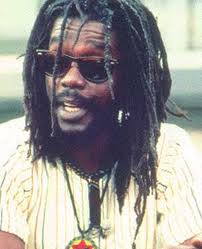 His Mother Alvera Coke and Father James McIntosh did not have time to grow him as a child.
Tosh father was a preacher in a local church and his mother was a member in that same church thus Tosh's father did not own him as his son.
Peter was raise by his aunt. He did not meet his father until he was Ten (10) years old.
He started his musical career from an early age. This was through the influence of American Radio stations which could beheard on the then Waves radios here on the Island of Jamaica.
He was also called "Stepping Razor", this was because he always speak out for those who could not fight for themselves.
His first big break came in the 1960s when Joe Higgs who was Tosh's vocal teacher introduce him to Bob Marley. who at that time was living in Trench-town. He was also instrumental in the forming of the Wailers. The wailers member were Bunny, Bob and Tosh.
Singer Peter Tosh said the word "Wail" means to mourn or to..as he put it "Express ones feeling vocally".
His first hit song was "Simmer Down" it was done with the Wailers. It was a monster hit as it was done in the SKA era.
In 1974 Tosh left the wailers citing unfair treatment from producer Blackwell. This led to the launch of his solo career which he started in 1976 which the released of his first album "Legalize It" for CBS Records.

The single with the same name was loved by Rastafarians because it speak to the legalization of Marijuana (Ganja).
He later formed his own reggae band calling it "Word, Sound and Power".
1978 was the year for singer Peter Tosh big break unto to international scene. He was sign to "Rolling Stones Record". His second album titled "Bush Doctor" was released under this label.
Peter recorded and released over fifteen (15) albums. Eight (8) with the wailers and Seven (7) as a solo artiste.
He performed genres such as, Reggae, Ska, Rocksteady and R&B.
After returning home in 1987 from the United States, he was held up by three Armed men demanding money. It's reported that one of the man was known to tosh personally. When there requested was not meet, Tosh was shot dead along with close friend radio personality Jeff "Free I" Dixon.
Winston Hubert McIntosh was a diehearted Rasta man.
May his soul rest in peace.
Share your views/ comment on this Artiste!
Do you have a great story about him/her? Share it!
What Other Visitors Have Said about this artiste..see below
Click below to see contributions from other visitors to this page about this artiste...


Was Reggae Legend Peter Tosh's Grammy and Guitar Pawned? Not rated yet
It has been rumoured that members of the Tosh family have allegedly pawned the singer's treasured pieces of memorabilia. According to international …

Judge Refuses To Lower Tosh1's $200,000US Bail Not rated yet
A New Jersey judge has refused to lower bail in a ganja possession case against the youngest son of reggae legend Peter Tosh. A YouTube video presented …
Go to Bob Marley and the Wailers from singer Peter Tosh page
Return Home from Peter Tosh page