Willi Williams "The Armagideon Man"

Willi Williams the Armagideon Man. Williams started recording reggae music from an early age while he was still attending Trenchtown Comprehensive High School.
He is a performer of Reggae and Dub Music.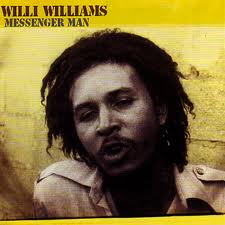 After his first recording "Calling" on Sir Coxsone Dodds' studio one label in 1966, he went and formed his owned recored label called Soul Sounds in 1969. 

Willi produced music for artists such as Delroy Wilson, The Versatiles, and the Barrett Brothers.
His big break came in 1979 while he was doing some work with Jackie Mittoo.
They were in New York when they link up with Coxsone, this led to the recording and released of "Armagideon Time".
Williams has recorded and released eight (8) albums.
1. "Armagideon Time" (1978, Coxsone)
2. "Messenger Man" (1980, Drum Street)
3. "Unity" (1987, Black Star)
4. "Natty With A Cause" (1992, Jah Shaka)
5. "See Me" (1994, Jah Shaka)
6. "Jah Will" (1995, Drum Street)
7. "Thanks & Devotion" (1999, Drum Street)
His latest work "Full Time Love" was released in 2002 on Drum Street label.
This singer-songwriter and producer has done work for producers and labels such as Studio One, Soul Sounds, Heartbeat, Black Star, Jah Shaka and Drum Street.
In 2007, the rock band Government Mule adapted and recorded Williams' composition "Natty With A Cause" as "Rebel With A Cause," which features Williams' voice along with that of Government Mule singer Warren Haynes.

Pages related to singer Willi Williams
Return to Dancehall and Regge Music Homepage