Stay up-to-date with all that's new at Dancehallreggaeworld, Click Here to subscribe for my updates and don't miss a thing!  

TOK Dancehall and Reggae music group

Welcome to TOK world where exquisite four part harmonies contrast rough edged deejaying, soaring falsetto hooks and gently crooned love songs are as plentiful as rapped verses and gritty gangster exploits;

a world where crisp production and idiosyncratic, taut songwriting yield a daring fusion that ranks them among dancehall's most distinctive and enduringly popular acts.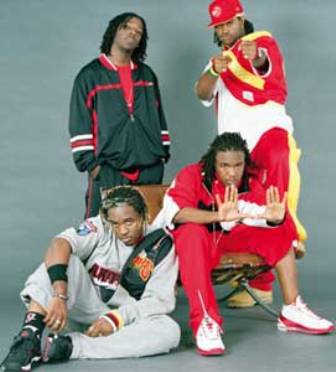 TOK Dancehall and Reggae music group
TOK (an acronym for Touch of Klass) has named their third album for VP Records "Our World" because it encompasses an assortment of musical ingredients that have had the greatest influence on the group's sonic identity. "With this album we have consolidated all that variety into one project," explains group member Roshaun "Bay-C" Clarke.
"We have dancehall, one-drop, Latin flavored beats, music for the hardcore listener, for the conscious listener and for the party goers; that is what our world represents." .... .."Our World" is dominated by previously unreleased tracks with a few of T.O.K.'s recent hits including "Guardian Angel", a prayer for spiritual strength sensitively sung over a one-drop reggae rhythm, produced by Arif Cooper.
In March 2009, nearly two years after its initial release, "Guardian Angel" topped Japan's Ring Tone Download Chart. Japanese fans have consistently shown tremendous love to TOK since their initial performance there in 200l.
T.O.K.'s debut album "My Crew My Dogs" and their sophomore effort "Unknown Language" were, respectively, certified gold (sales of 100,000) and platinum (sales of 250,000) by the Recording Industry of Japan. Encouraged by the great response to "Our World" since its Japanese release on June 16, TOK anticipate equal success in various global territories when the album drops worldwide on August 25th.
"Besides Japan we have a following in Germany, France, all over Europe," Bay-C continues. "We also have a following throughout Central America, we have fans in the US and we just came back from Canada where we had three sold out performances and we did three major concerts in Africa. So all of that is also what we mean when we say it is "Our World"...
T.O.K.'s world has greatly expanded since November 1992 when high school students Craig "Craigy T" Thompson, Xavier "Flexx" Davidson, Alistaire "Alex" McCalla and Roshaun "Bay-C" Clarke formed a vocal group.
Like many of that era's young singers they were greatly influenced by the brilliant harmonization of 1990s American boy bands including Boyz II Men and their favorite Shai, but as Jamaican youth they were equally inspired by the island's ubiquitous reggae and dancehall rhythms; their shared vision for TOK was to create an adventurous union between beautifully nuanced vocalizing and dancehall's rough and rugged edge.
Bay-C and Craigy T introduced deejaying into T.O.K.'s performances at Cactus (the now defunct nightclub located in the Kingston suburb of Portmore), which is where the group learned how to connect with a hardcore dancehall crowd. They began writing original music, individually contributing significant concepts, choruses and verses to the group's collective compositions and were transformed from a mellifluous high school boy band into a tough rhyming rude boy band.
However, it took some time for audiences to embrace their audacious yet appealing hybrid. "We fused harmonies with dancehall subject matter, Flexx and Alex's sing-jaying with Craig and my deejaying and created this new sound," says Bay-C. "But people who liked that clean cut boy group sound said why are you going into dancehall and the dancehall community was like you are a boy group, what are you trying to do?".
Undeterred by such criticism TOK persevered and secured their first recording session, covering 3T's "Anything For You", which was produced by Stephen Greig, the group's first manager for his Nuff Records label. Flexx then approached ace selector Rory of the immortal Stone Love sound system with a copy of "Anything For You"; Rory started spinning the tune at Stone Love sessions and before long it was playing on the island's airwaves.
In 1997 T.O.K. sought out producer Danny Browne whose Main Street Records label was having great success with General Degree, Red Rat and Buccaneer, among other artists. Browne had a lukewarm reaction to T.O.K.'s sound but his nephew (then fledgling) producer Richard "Shams" Browne was so impressed he offered to manage the group.
"We said if you get us a song with Lady Saw (dancehall's queen, then at the peak of her reign) we will make you our manager," recalls Flexx. "So we did "Hardcore Lover" with Saw, Shams produced it, and it became our first top 10 hit." A succession of hits recorded with several top producers followed including "Man Ah Bad Man" (Shams), "Eagles Cry" (Dave Kelly) and "Money To Burn" (Tony "CD" Kelly).
The aforementioned hits were included on T.O.K.'s acclaimed 2002 VP Records debut "My Crew, My Dogs", which reached the Top 10 on Billboard's Reggae Chart; that year T.O.K. became the first dancehall act to appear on BET's influential video countdown show106th and Park.
T.O.K. made even greater strides with "Unknown Language" which featured the dancehall smashes "Fire Fire" and "Galang Gal", and a few crossover triumphs. Its up tempo lead single "Gal You A Lead", anchored by Alex's mesmeric vocal hook, became a hit on prominent urban stations including New York's WQHT (Hot 97) and Miami's WPOW (Power 96) and was the first TOK. song to enter the Billboard Hot 100, peaking at number 85. The anti-violence sentiment expressed throughout the group's somber number one Jamaican hit, "Footprints", which honors Alex's brother Gavin who was killed by a stray bullet in 2003, also connected with a wider audience, reaching number 22 on the Billboard's R&B Hip Hop Singles and Tracks tally and number 93 on the Hot 100.
TOK foresee scaling even greater heights with "Our World" as they express on the album's first track "The World Is Mine", produced by Rohan "Jah Sno Cone" Fuller; over a brooding synthetic beat, the group declares their invincibility, "heading for the top and we a reach, nah lef without the prize/the world is mine, watch me take it, cant stop me, I'm gonna make it".
Tony "CD" Kelly, the producer responsible for some of T.O.K.'s biggest tunes reunites with the band after a six year lapse contributing several dancehall boom shots including the gangster anthem "It's Over", the male camaraderie chant heard throughout "Me and My Dawgs", and the stern instructions issued to a cheating gal on the pop-friendly "Get Out (Don't Come Back").
Kelly also produced the intriguingly titled "Afternoon PornStar" which chronicles role-playing in real life relationships, not the lewd celluloid depictions suggested by the song's name. "That song is based on our extensive research on the topic," explains Alex to supportive laughter from the other group members.
"It's about the side of a woman's personality that she only shows to that special someone and we try to facilitate that type of behavior as best as we can." Assisting in the pursuit of such behavior is the (for mature audiences only) ain't-too-proud-to-beg dancehall ditty "Gimme Little (If You Want Me)", produced by Karim "DJ Karim" Thompson.
The group's extraordinary versatility allows them to effortlessly flip from the risqué to the retro. The joyous "Couple Up" (voiced on Arif Cooper's appropriately named National Pride rhythm, which boasts synthetic banjo instrumentation inspired by mento, Jamaica's first popular music form) features T.O.K.'s effervescent vocals celebrating the pleasures of a dancehall session: "watch de hot gal dem wine again, man and woman dem a form conga line again,/it nah gun time, fun time again, bassline a move waistline again."
The percussive driven "Gyrate" produced by Shane Browne, and the hit "Whining" produced by Flexx both highlight the fluid pelvic motion that is key to successful dancehall moves. Flexx and Bay-C have each released self-produced, various artists projects in Japan, which were primarily intended to broaden T.O.K.'s collective strengths.
"We went into production to support TOK. so we are not dependent on outside producers and to invest more in our talent as a group," says Bay-C, who produced "Miss World", featuring the incomparable rapid-fire flow of dancehall's self-proclaimed king Beenie Man alongside the foursome's gleaming harmonies.
The song honors the band's devotees, which of course are "the hottest girls inna de world". Slower paced one-drop rhythms have consistently provided the ideal framing for T.O.K.'s alluring vocal textures. "Our World's" one-drop tunes range from the crooned expectations derived from a lasting relationship expressed on "I Wanna Love You", produced by Mario "Mad Scientist" Lawrence and the acoustic plaintive peace plea "Live It Up", produced by Shane Brown, each song reaffirming the unparalleled aural sophistication the group brings to popular Jamaican music.
The tough lyrical posturing TOK. adopts on tunes like "Gangsters Never Die", produced by Chester Walker merits the rude boys' respect but it's the ladies that are undoubtedly the group's most ardent fans. The group's stunning harmonies deliver a lifelong pledge of love and devotion on the R&B flavored "Die For You" produced by Craig "Lefside" Parkes and Mathew Esco Thompson.
T.O.K.'s continual refinement of their immense talent has kept them at the forefront of Jamaican dancehall and brought them widespread success. The group's diverse song content, unique sound and the sheer magnificence f their vocals as heard on their third album, guarantees prominent placements on international charts and an ven greater musical presence in Our World.
Pages related to Dancehall Music group TOK
Reggae artist Alex Creates Buzz With "Believe in Love" ft. Busy Signal - Alex is embarking on a new and different vibe of musical life. These days the singer from the world renowned dancehall group Touch of Klass, more popularly known as T.O.K, is working on his soon to be released album NextLevelution.

Share your views/ comment on this Artiste!
Do you have a great story about him/her? Share it!
What Other Visitors Have Said about this artiste..see below
Click below to see contributions from other visitors to this page about this artiste...

Return to Dancehall Reggae music from Reggae group T.O.K
Return to Reggae music group from Reggae Group T.O.K

Want to learn more about Reggae Music? check these pages below...
New! Talk to me
Was the information helpful? Something needs changing? I welcome your feedback here.

Great Articles You Might Have Missed
Please send us your Feedback, News, Photos, Press Releases, Music and/or Videos to our WhatsApp Number: 1-876-395-8008 or Email: necoflex@gmail.com


Not what you are looking for? Search the web for more Dancehall Reggae music information below...
Researched Information pages