Stay up-to-date with all that's new at Dancehallreggaeworld, Click Here to subscribe for my updates and don't miss a thing!  

Voicemail - Dancehall and Reggae music group

You've Got Mail! Voicemail - The biggest unintentional secret in Dancehall Reggae music since SNOW is that the fluid sound you hear on tracks recorded by Voicemail is not the singular range of one singer; but that of a group.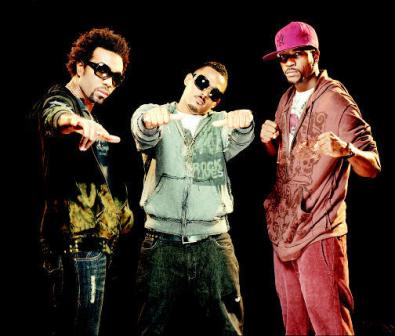 Stacked with an abundance of control and timing these three manage to belt out each bar and verse in such
harmony that it is easy to be mislead. It truly takes a skilled ear to initially distinguish the different voices.
A shared destiny and ambition has bonded these three singers: Craig Jackson, Kevin Blaire and Oniel Edwards together as one group. Performing as a unit for the last 5 years, the three have remained as the final legacy of Voicemail.
Quickly recognized for their intro trademark, Youve got mail Voicemail, heyeee as only Craig can deliver; they have been making waves in Jamaica with charting singles such as Weh Di Time and their succession of videos for songs like Gal Hunt, Weddy Time, She Want It Harder, Ready To Party and Wacky Dip in addition to features on the Strip Tease riddim and Klymaxx riddim medley videos. Its their energetic stage performances, that fail to hide the enjoyment shining in their eyes from the pure pleasure of being in front of audiences at key events like: Spring Fest 2004, Sumfest 2004, 2005, Fully Loaded and world wide touring, which is allowing them to win over critical audiences.
Like many groups in Jamaica today, the three met up a local talent show. It was there that the foundation of Voicemail began with two additional members: Robert Manning and Leonardo Grant, all committing themselves to a recording career in 1999. However, as the road to achievement is often long and hard the music industry in Jamaica very trying, two of the members eventually moved on; parting the group amicably. However, for remaining three; Craig, Kevin and particularly Oniel Edwards, whose father is a famous Jamaican recording artist and producer; Rupee Edwards, this was never a consideration.
By 2003, the trio began to actively record with producers testing the waters without the missing members, their initial lead vocalists. Their first recording was with radio personality and producer Arif Cooper. They laced an R&B fashioned tune Never Really Want To Let You Go with such ease and finesse that if this song was your introduction to Voicemail, you would assume they were strictly an R&B group. However, like for many talented youths from Jamaica, Dancehall Reggae is the heritage, the music and the largest influence. Although the group is notably inclined to R&B, appreciating artists such as Boyz To Men and Jodeci, it was the direct exposure growing up to Wayne Wonder and Sanchez as well as Scare Dem Crew, to which Craigs older brother was a member, which molded their musical direction.
Like any group, the three have their distinctly different dynamics. Craig is the mushy one, who is always cuddly, lovable and laid-back. However at the same time, hes the one that they all agree is most miserable and meticulous when it comes to recording. Anything less than perfection is simply not an option! Kevin, a former model is surprisingly the quietest and most unassuming member of the group. He describes himself without airs, for the most part, Im just a happy go lucky person always bouncy and ready for anything. Once you get to Oniel, the baritone voice of the group, its clear he is the leader, the organizer and the unspoken boss. Always an entrepreneur, Oniel had his own business importing and selling goods prior to joining the group. Kevin even shares Hes the man that while we sleep, hes there pon the phone calling this person and that person, setting us up to record and all those things. Hes the man in charge.
While the group Voice Mail has become identified with catchy, upbeat and fun dancing anthems, this is not the full spectrum of their catalog, nor is it by any means their limitations. As Kevin expresses, we strive to be full fledge entertainers, entertainment for us is consistent of a variety of things; singing, dancing, acting whatever it takes to keep the audience aware at all times. At the same time our three biggest songs to date are dance songs, so we are going to be associated with that. Its all about entertainment for us at the end of the day.
The groups debut album HEY with VP Records is one of the more anticipated releases for Dancehall. The album itself shows diversity with tunes like their fun filled dance party anthems Wacky Dip, Weddy Time and Ready To Party which was forged by working with Danny Champagne of Champagne Records. These recordings signaled the start of a distinctive period of growth in groups recordings and industry relationships. This independent producer actually puts forth more energy in promoting his recordings as demonstrated by the coordination of the video for Weddy Time featuring Delly Ranks as well as the now deceased dancing icon Bogle. Later, thanks to the introduction by Champagne, the group recorded with esteemed Dancehall producer Tony CD Kelly on the Kantana riddim, which allowed them another hit locally titled Fatima and more penetration in international markets.
Their special chemistry impressed Robert Livingston and they are featured on his THE RETURN riddim creating a crossover friendly track Jamaican Jiggas. With lyrics that tell a tale understandable by all English-speaking nationals, the song has huge potential. Another album track from the Big Yard Music Group is the recording Playing Games on the Reggae one drop Cry Baby Riddim. This relationship oriented tune has Craig pleading for more quality in the women lining up to be the groups special someones.
Doing so much work around the Big Yard studios in Jamaica has afforded Voicemail close relationships with the camps producers. As such, Get On Up from Christopher Birchs Thrilla riddim and the upbeat Crazy from the Gangster Rock riddim have both been popular tunes for the group. Birch also recorded the exclusives Shake Dat Thing, One Wish and Dance Floor which features Teka, for the groups album. Another buzzworthy producer, Don Corleon, whos had a slew of popular hit riddims the last two years, got together with the group to record Bring Your Body Come for the upbeat Sweat riddim. Corleon also laced the group with an exclusive for the album, titled Sweet Thang.
The song Get On Up was recorded for Renaissance Crew on the Ice Breaka riddim, after the success of their production on Sean Pauls We Be Burnin, there is high anticipation for another breakaway hit. Back To Basic was done with the production team, The Ballaz, whos biggest international credit to date is the number one hit in France, titled Hey Sexy Wow with Lord Kossity and dancehall singjay Chico. The collection of hot popular singles along with exclusive cuts allows for a comprehensive and jam packed album that takes you on a exploration of the heart, dancefloor, streets and back again.
Voicemail are not the ones to look at for controversy. They are focused on quality recordings, not mixing up the pot or going for the shock factor just for the sake of publicity. Their songs portray feel-good vibes and at the same time intelligence. Voicemail is determined to keep moving forward and break into the International market. They have the right discipline, dedication and commitment to their craft. They could very well be the first strictly R&B-fashioned Dancehall group to not only stay together but really make an impact with their debut album: Hey.
Share your views/ comment on this Artiste!
Do you have a great story about him/her? Share it!
What Other Visitors Have Said about this artiste..see below
Click below to see contributions from other visitors to this page about this artiste...

Return home from dancehall reggae group Voicemail page
Want to learn more about Reggae Music? check these pages below...
New! Talk to me
Was the information helpful? Something needs changing? I welcome your feedback here.

Great Articles You Might Have Missed
Please send us your Feedback, News, Photos, Press Releases, Music and/or Videos to our WhatsApp Number: 1-876-395-8008 or Email: necoflex@gmail.com


Not what you are looking for? Search the web for more Dancehall Reggae music information below...
Researched Information pages