Reggae Songstress Etana the Strong One

Reggae songstress Etana, "The Strong One". Born (Shauna McKenzie) May 22, 1983 in August Town Jamaica.
She was educated in Jamaica until 1992 when she moved to Florida, USA. Even though she was pursuing a career in nursing"The Strong One" first love was the music (reggae) of her homeland Jamaica.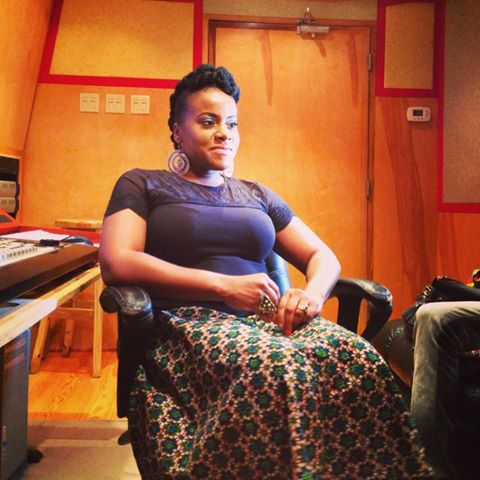 Etana started her musical career as a member of a group called "Gift", started by Universal Records. But due to the provocative mode of dressing she quit and returned to Jamaica, where she openned a business.
Music was still calling her and so in 2005 she was introduced to the Fifth Element Band. She started working for them as a back-up singer for Richie Spice.
Her Powerful, Soulful and Unique voice was very well loved. This prompted her employers to encourage her to go solo.
In 2006 she started her solo career. Her first single "Wrong Address" was an instant hit. Peaking at #1 on most reggae charts across the world.
It was followed by "Roots" with its catchy hook, "You Can't Water Down and Dilute".
Other monster hits which followed are, "Warrior Love", "I'm Not Afraid", "Blessings" ft Alborosie and "Free".
In 2008 she released her debut album "The Strong One". The International Reggae and World Music Award (IRAWAM) voted it as the album of the year.
Most of her songs are thought provoking and her latest single "August Town" is just as provoking as the others.
Dancehall and Reggae Fans across the world would consider her be a Rastafarian, but in May 2009 she gave her life to the Lord (Baptized).
In 2010, rumors started that she was now a married woman. But all doubt was laid to rest when she was asked about this.She replied "I have found my Warrior Love". But she didn't want to divulge much about the marriage.
Etana is currently (2010) working on her second album "Free Expressions" set to be released in September 2010.Tracks such as "August Town", "Heart Broken" and "Happy Heart" will be featured on this Album.
Artiste such Bob Marley, Marcia Griffiths and Sizzla Kalongi to R&B crooners like Whitney Houston, Lauren Hill and Jill Scott, among others, are who inspired her.
Pages related to Reggae Songstress Etana

We value your feedback
Share your views, comments, or your take on this? Share it!
What Other Visitors Have Said
Click below to see contributions from other visitors to this page...

Return home from Reggae Songstress Etana page

You are welcome to join my special friends list and receive exclusive updates (like this) videos, breaking news, albums, new songs and promotions from players in the Dancehall and reggae music industries, send direct to your inbox.

You can also follow us for my updates! Link up @ Facebook |Twitter |Instagram