Stay up-to-date with all that's new at Dancehallreggaeworld, Click Here to subscribe for my updates and don't miss a thing!  

Marcia Griffiths Reggae Empress

MARCIA GRIFFITHS - Born Marcia Llyneth Griffiths on November 23, 1949 to Joseph and Beatrice Griffiths.
The family hailed from a poor section of West Kingston, but as bad as things were, Marcia considered those days glorious, because there was always one thing in abundance - one thing that made them the wealthiest family in the world - one thing that no one could take from them... Love.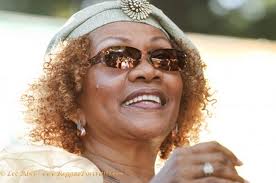 Marcia Griffiths is a Peaceful Woman: From her teen years she depicts calm and charm.
Marcia as a teenager attended Kingston Senior School, and was a zealous member of her church choir. In fact, she was always taking part in some school concert or play. She loved to hang out and sing with friends, often times sneaking out of the house after her parents had gone to bed. It was during one such nightly excursion, that the slim fifteen year old beauty managed to get herself discovered.
Philip "Boasie" James lead singer of the Blues Busters vocal duo was visiting his girlfriend, who lived next door to Marcia, and heard this lovely voice floating through the air. He could not believe his ears, and subsequently took Marcia straight away to Byron Lee and insisted that this song-bird be included on the upcoming talent show to be held at the Carib Theater in Kingston. Marcia remembers that Byron was upset with "Boasie" for coming to interrupt his well planned program schedule and insisting that this "nobody" go on his show.
Marcia remembers she performed a Carla Thomas original,"No Time To Lose" to phenomenal response from the audience. They demanded an encore, but to no avail, as she had only rehearsed one song with the band. As much as she wanted to, she could not do any more performances that day.
The attention Marcia Griffiths received after this auspicious debut was overwhelming. Everyone wanted to manage her, including Byron Lee's manager Ronnie Nasralla. That same night he took her to the studios of JBC where Marcia made her first television debut. All in one day were the ingredients of an overnight success story which no one realized was about to happen. The rest is history, for the girl who became first the queen, the matriarch of Reggae Music. Marcia L. Griffiths OD., a great contributor to Reggae Music, is most fitting for the royal, prestigious, and respectful title of Reggae Empress.
The longest, hardest, and most consistently working artist in the history of the Jamaican Music Industry is the Empress of Reggae music, the most Honorable Marcia Griffiths, OD, first Lady of Songs, Female Vocalist Supreme.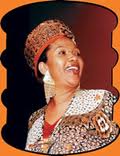 In a career spanning 40 years to date and still going strong, she hits high points internationally as a soloist and as a duo with Bob Andy, as Bob and Marcia Griffiths. She has toured the world as a member of the I-threes with Bob Marley and the Wailers. Subsequently as a soloist she hit the Billboard chart with "Electric Boogie Song" and created a world class dance, the Electric Slide. This super star has been recording and performing ceaselessly.
At a recent reggae concert in South Florida, Marcia Griffiths demonstrated the same level of performance she has been known for over the years, as both a solist and a member of different groups. She displayed, in combination with Reggae rapper Cutty Ranks, on their duet of "Fire Burning", all the zeal and elements that go into dancehall music. Marcia exibit the same exuberance when performing her international crossove hit "Electric Boogie."
Marcia Griffiths has been performing and recording as a top class artist for four decade. She says "I started singing professionally as a vocalist in 1964, for Byron Lee and the Dragonaires band." Her recording years started soon after, at Coxsone Dodd - Studio One where she recorded her first hit "Feel Like Jumping."
It was while recording at Studio One that Marcia teamed up with Bob Andy on 'Really Together," the first of many duets that the two would record. "Luckily for me, Bob Andy was always a strong and wise person", says Marcia. "He was there for me in the early days and that gave me confidence". Then the pair moved to the Harry J Label, hitting the British, as well as the International charts with "Young Gifted and Black" and "The Pied Piper," recording two albums of the same titles.Marcia Griffiths & Bob AndyBob & Marcia @ Morgan's Harbour
Following that duet success, she went solo again on the High Note label with Reggae's sole established female producer - Sonia Pottinger - hitting with several songs including her own original "Stepping Out of Babylon." and releasing two albums "Naturally" and "Stepping". When asked to express her opinion on female reggae vocalists, Marcia said "Its been a rough, tough job standing up as a woman in this business, that's why my album before "Land of Love" I chose to call "Indomitable", which means not easily discouraged or defeated. My views on women in reggae are positive; most of the new or upcoming female singers in reggae started out singing my songs before doing their own originals. I feel very good about that; to know that I have influenced my people positively."
Ten years after entering the music business, Marcia united with Judy Mowatt and Rita Marley to form the I-Threes as an important part of the Bob Marley entourage. "Words are not enough to express my experience with the I-Threes and Bob Marley and the Wailers", says Marcia. "What a blessing to be so privileged.....to have shared this experience".
Currently Marcia Griffiths is one of the leading female artists on the Reggae scene. Shocking out with the electric boogie, doing the electric slide.
Marcia gained solo international recognition with her monster hit "Electric Boogie." This song was first recorded in 1982 and went to the #1 spot on the Jamaican charts. Sales continued over the years and in 1989, a Washington, DC Disc Jockey started playing it regularly and in no time, it caught on and hit the station's regular rotation list.
A new dance, the Electric Slide, was created from the "Electric Boogie" song and as a result, sales soared and the "Electric Slide" became popular all over the U.S. The song and dance have been featured on the Oprah Winfrey and Phil Donahue shows, and the video has been aired many times on the Black Entertainment TV (BET) and other nationwide music networks.
In 2004 at the dawning of the 21st century, the most influential female artist in Jamaican popular music, Marcia Griffiths OD is briskly fanning the flames of Reggae Music. Working in the studio, releasing records and touring. Marcia continues her mission of spreading the message in the music into the new millennium.
In between studio sessions, Marcia has been on the road. In the past two years she has enjoyed a successful tour of the USA with Beres Hammond and Freddie Mcgregor. Traveling to England with Beres Hammond they performed an extensive tour with the same overwhelming results. Forward on a yard, Marcia shared the stage with Boyz II Men at the massive Spring Break concert for MTV in Negril Jamaica. Returning to the US, she performed in Orlando, Florida, (Disney World) Universal Studio, at the opening of the Bob Marley Museum. Sharing the bill were the I-Threes, Ziggy Marley and Inner Circle. Moving on up to New York, Marcia displayed two memorable shows with Beres Hammond and Buju Banton at Carnegie Hall and Madison Square Garden.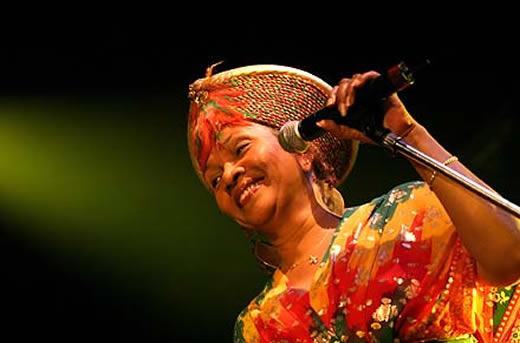 Going further north Marcia worked in Toronto and Montreal with John Holt and Ken Boothe. Again in the USA with Bob Andy as the Legendary duo, they performed at the Bob Marley, Day Celebration in Los Angeles, before heading down south to perform at the historic Reggae meets Rocksteady showcase in Miami. Next Marcia toured with the legendary Wailers Band.
Then the I-Threes were off for shows in Italy, Europe and South Africa. Returning to Jamaica, the I-Threes shared the stage for two shows with R&B legends Gladys Knight and Patti LaBelle. In November 2002, along with John Holt, Ken Boothe and Mikey Spice, Marcia produced an historical performance with the Royal Philharmonic Concert Orchestra at the Wembley Arena, Birmingham and Aston Vill Leisure Centre, Middlesex. Since then Marcia has performed in New York, Toronto, Atlanta, Miami and Jamaica.
The driving force of the Reggae Empress is fueled by her inner desire to serve the people of the world with sweet reggae music. She said " Music alone shall live, and it's not only for the money, but the satisfaction I get from doing the work that I love, that is what really keeps me going everyday".
List of her albums
1. At Studio One (Live)
2. Sweet Bitter Love (LP) 1974
3. Put a Little Love in Your Heart: The Best of Marcia Griffiths 1969-1974
4. Naturally 1978
5. Stepping 1978
6. Rock My Soul 1984
7. I Love Music 1988
8. Marcia 1988
9. Carousel 1990
10.Indomitable 1997
11.Land Of Love 1997
12.Collectors Series 1998
13.Truly 1998
14.Certified 1999
15.Reggae Max 2003
16.Shining Time 2005
Her next album should be release in 2012, it will be produce by PDonovan Germain of Penthouse Records.
Pages related to Marcia Griffiths
Marcia Griffiths collaborates with Chronixx and Sly and Robbie - Veteran singer Marcia Griffiths is hoping to score with her latest single Queen of Paradise.
We value your feedback
Share your views, comments, or your take on this? Share it!
What Other Visitors Have Said
Click below to see contributions from other visitors to this page...

Return to Dancehall Reggae world homepage from Marcia Griffiths page
Want to learn more about Reggae Music? check these pages below...
New! Talk to me
Was the information helpful? Something needs changing? I welcome your feedback here.

Great Articles You Might Have Missed
Please send us your Feedback, News, Photos, Press Releases, Music and/or Videos to our WhatsApp Number: 1-876-395-8008 or Email: necoflex@gmail.com


Not what you are looking for? Search the web for more Dancehall Reggae music information below...
Researched Information pages