Reggae Dub Poetry
Dancehall and Reggae Poems

Reggae Dub Poetry is just a sub-genre to dancehall and reggae music.
*What is Dub Poetry?
This is the performing of Poetry over dancehall or Reggae riddims. It is also called Dub Poems.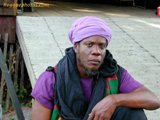 Mutabaruka
Reggae poetry consist lyrics mostly of Political and social commentary. Malachi Smith once quoted that "Reggae Poetry speaks about oppression, dispossession, brutality, exploitation of love, family, community, sanity and insanity of the world".

*Who was the first Dub Poet?

The first Dub Poet is said to be Jamaican Oku Onuora. He started this genre of music in the early 1970s. Oku said Dub Poem was built on reggae riddims so that it can be heard and felt.
Other well known Poets are, Mutabaruka even though he resent this title, Big Youth, I Roy, Yasus Afari, Dillinger, Malachi Smith and Prince Jazzbo. The most recent sensation joining this unique family is DYCR.
Reggae Poetry is mostly Rastafarian driven, and always attract a large following of the same.
Presently this unique music can be heard and enjoyed in Canada, Jamaica and England. These are the top countries where it isnow being produce and performed.
Pages related to Reggae Dub Poetry
Return to Dancehall and Reggae Homepage from here
You are welcome to join my special friends list and receive exclusive updates (like this) videos, breaking news, albums, new songs and promotions from players in the Dancehall and reggae music industries, send direct to your inbox.

You can also follow us for my updates! Link up @ Facebook |Twitter |Instagram