Ras Batch release new album "Know Thyself"

Ras Batch - Born on the island of St. Croix, Batch became inspired by music at a very early age. With exposure to musical equipment and records he developed an interest in music.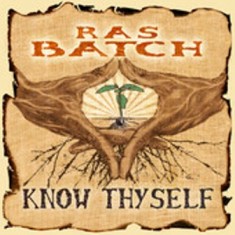 As a teen he began playing drums and became exposed to other musical instruments at a church.
After completing school, Batch played professional gigs as a drummer first with Danny Tucker, a vintage roots singer out of Jamaica, then moving on as lead vocalist and drummer helping to form the reggae band Motion, along with brothers Eddie 'I-DE' and Reggie 'I-GE' Beazer in the city of Boston.
They went on to win Boston's Caribbean Best Reggae Band Award for five years consecutively as a supporting band and independently performing as Motion throughout the eastern U.S., sharing the stage with some of the strongest on the reggae scene such as Tony Rebel, Spragga Benz, Sizzla, Bushman, Buju Banton, Capleton, Anthony B, Determine, Louie Culture to name a few.
With Faith in Rastafari, Batch ventured into production and established his own record label, Sound V.I.Zion Records, in 1999. Strictly consciousness with an African musical Liberation, music for the mind,.
With the release of 12 conscious CDs to date, including six crucial solo albums "WHO YOU ARE" 2003, / "KEEP THE FAITH" 2004, / "JAH GUIDANCE" 2005, / "TO THE ROOT"-2007, / "I-VER STRONG, / "VIZIONARY" 2008, Batch continues to be one of St. Croix's most prolific singers, producers, musicians, and revolutionists.
RASTAFARI! Is Redeemer of the African Nation Mental, physical and soul. Batch is currently touring alongside players of instruments knows as the Zioniers band, Keep your ears and eyes intune for this Rasta Music movement.
Pages related to Reggae artist Ras Batch
Return to Dancehall Reggae World homepage from Ras Batch page

You are welcome to join my special friends list and receive exclusive updates (like this) videos, breaking news, albums, new songs and promotions from players in the Dancehall and reggae music industries, send direct to your inbox.

You can also follow us for my updates! Link up @ Facebook |Twitter |Instagram