Capleton's song ' Forward Inna Dem Clothes ' Featured in Creed Assassin Trailer

One of this year's highly anticipated Christmas releases is being promoted with the sound of reggae's own fireman Capleton.
The first official trailer for Assassin's Creed features the third track from Kanye West's 2013 Yeezus album, I Am A God, which sampled Capleton's song, Forward Inna Dem Clothes.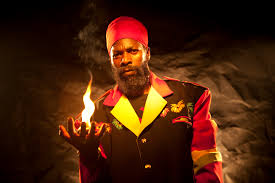 Capleton's manager Claudette Kemp cited "certain issues" that have kept the team in the dark regarding the feature.
She said they are unaware and currently incapable of finding out if the song will be included in the film's soundtrack as well.
The reggae artiste's management was also unable to confirm whether or not Capleton would get royalties if the song is featured on the film's soundtrack.
I Am A God has been used in the promotion of Hollywood blockbuster The Wolf of Wall Street.
The official Assassin's Creed trailer has already generated more than two millions views on YouTube.
Assassin's Creed, which stars Academy Award winner Marion Cotillard and Academy Award nominee Michael Fassbender, is the film adaptation of the popular video game of the same title. It is scheduled for release in December.
Pages related to Reggae artiste Capleton
Capleton to close Sumfest reggae night 2018 - Capleton the Fireman will be closing night two, popularly called Reggae Night, of this year's renewal of Red Stripe Reggae Sumfest.
Capleton's St. Mary Mi Come from set for August 5, 2017
Saturday, August 5, 2017, is the date for this year's staging of the charity show 'A St. Mary Mi Come From'. It is scheduled to be held at the Gray's …
Capleton release I ternal fire album - Dancehall reggae artiste Capleton also known as King Shango, The Prophet and The Fireman has released a Roots and Culture album.
Return to Dancehall Reggae world Homepage from Capleton Page
Return to Reggae artists page from Dancehall artiste Capleton page

Articles On Dancehall Reggae World You Might Have Missed ......
Jun 20, 18 08:53 PM

History About Reggae Music and Facts - Reggae Music, Jamaican Music was mostly all about the culture and the island of Jamaica.

Jun 20, 18 03:47 PM

Zagga - Bad and Hungry Amini Music - Reggae artist Zagga is back with a brand new single titled "Bad and Hungry".

Jun 19, 18 10:23 PM

Best Bob Marley Playlist - Thinking of putting together a list of Bob Marley's tracks? Let us help you with that.