Dancehall Reggae Music Artiste Sizzla Kalonji
"Sizzla Kalonji" one of the most controversial dancehall and reggae artiste in the business today.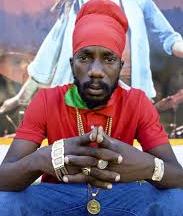 Birth name Miguel Orlando Collins on April 17, 1976 in St. Mary Jamaica.
A die hearted Rastafarian and also a member of the Bobo Shanti Rastafarian movement. At a tender age, he migrate to August Town in Kingston. He was educated at Dunoon High School where he studied mechanical engineering.
Like all or most artiste entry into the dancehall and reggae industry was not a bed of roses. He started out working on a sound system and was not able to record his first single until 1995 on the "Zagalou Label".
He was then introduced to veteran producers "Bobby Digital" and he "Bobby" was instrumental in propelling Miguel's career. This led to him going on tours regularly with artiste such as Luciano and Capleton.

To date in Jamaica if you should asked anyone from the young at heart to Christians about Sizzla Kalonji, they will readily identify him with the hit single "Black Woman and Child" which is from the album with the same title and is regarded as one of his biggest single.
Locally and Internationally he is one of the most sought after artiste in the business. This stalwart has done work with "VP Records", "Greensleeves" and "Zagalou Label", but he is now working with his own label "Kalonji Records".
After building his state of the art recording studio in August Town at 42 August Town Rd in Kingston/St. Andrewv, he is now an icon in the community because of the contributions that he has made and the worked done with the youngsters in the area.
Kalonji always in the news from been pick up by law enforcement officers for questioning with crimes in the area of which he is never being charge or found guilty to the ongoing issue with the "Gay rights movement".
He was banned from performing in Europe, Canada and United states because of lyrics in some of his song against "Homosexuals".
Even after all this he recorded "Nah Apologize" which clearly states that he don't care what they are saying he is still living by his words, this single is still a major hit in the dancehall and clubs today.

Sizzla Kalonji is not only an artiste or Producer, he currently has a clothing line and a magazine titled "The Black Magazine" which I think will be successful.
Truly an Icon in the dancehall and reggae music industry, he has released more than 45 albums and he still remains "Solid As A Rock".
We value your feedback
Share your views, comments, or your take on this? Share it!
What Other Visitors Have Said
Click below to see contributions from other visitors to this page...

Sizzla Kalonji "The Messiah" is now out (Download)

Sizzla Kalonji's 70th album The Messiah is now available. The 15-track LP features some of Sizzla's best work over the last few years, including the …
Sizzla Kalonji to return to the stage in 2012

Fans who are expecting to see Sizzla Kalonji return to the stage will have to wait until 2012. Sizzla made the announcement after being falsely advertised …
Sizzla Kalonji in Stable Conditions

Dancehall Reggae artiste Sizzla Kalonji in stable conditions in Hospital. After being hit from his motorcycle on Wednesday August 24, 2011 along the …
Sizzla Kalonji fire lyrical shots at Snoop Dogg in 'Burn Out Smithsonians'.

Veteran dancehall artiste Sizzla seems to be in a no nonsense mood lately, he recently has been firing lyrical shots at some of his fellow dancehall artists …
Dancehall and Reggae Music Artiste Sizzla Kalonji Denied US Visa Not rated yet
After much anticipation for Sizzla's return to performing on US soil, his US Tour has hit a roadblock. Having being barred from performing in the United …
International Artist, Orisha Sound Releases New Video for "Embrace It" Featuring the Jamaican Artist, Sizzla Kalonji Not rated yet
Musical Prodigy, Orisha Sound's New Single Featuring the Jamaican Artist, Sizzla Kalonji Los Angeles, CA - International pop musician, Orisha Sound …
New Reggae Single 'Sizzla - Hotta Fire' | Ted Ganung Remix | Feb. 5, 2013 Not rated yet
Sizzla Hotta Fire (Ted Ganung Remix) Press Release February 5, 2013 The Rebirth of Sizzla after a motorcycle …
Sizzla & G-Mac "Holding Firm Remix" Dec. 11, 2012 Not rated yet
Press Release: Sizzla & G-Mac "Holding Firm Remix - EP" Release on December 11, 2012. Label: Royalty …
Sizzla Still performed in Stockholm dispite strong protest against his lyrics Not rated yet
Reggae superstar Sizzla Kalonji will perform in Stockholm on Wednesday March 28, 2012 despite strong protests against his "anti-gay" lyrics, even though …
Sizzla Kalonji Show cancelled because of his Anti-Gay lyrics Not rated yet
Dancehall artiste Sizzla Kalonji anti gay lyrics has prevented him from performing in Stockholm, Sweden. Sizzla was booked to perform at the Hornstull …
New single from G Mac and Sizzla 'Question' Not rated yet
Judgement Yard starts of the year with a collaboration between Sizzla and his proteje G Mac, a song called 'Question'. A dark hiphop groove, reality …
Sizzla Kalonji released "The Scriptures" his 65th Album Not rated yet
Dancehall reggae recording artiste Sizzla Kalonji has released his 65th album titled "The Scriptures". The album is produced by John John and was online …
Sizzla Kalonji Thank You Mother official video Not rated yet
Sizzla Kalonji Thank You Mother official video You can show your love for mother and this video by posting your comments below.. RETURN TO …
Return Home from Dancehall Reggae Artiste Sizzla Kalonji page
Custom Search
Stories You Might Have Missed

| | | |
| --- | --- | --- |
| | VYBZ KARTEL TRIAL: Prosecutor's key witness says he was given a gun to hide | Will the Queen of the Dancehall Lady Saw make it as a Gospel artiste? |
| | Female artistes left in the dust - Say it's a struggle to go mainstream after Rising Stars | |
---


SEND ALL DANCEHALL AND REGGAE MUSIC RELATED ITEMS TO INFO@DANCEHALLREGGAEWORLD.COM