Ska Music Singer Derrick Morgan

Singer Derrick Morgan Born on the 27th of March 1940 in Clarendon, Jamaica. 
His big break was at the age of 17 (1957), when he entered the annual Vere John's Opportunity Talent Show. Here, he sang "Long Tall Sally" by Little Richard and "Jenny Jenny".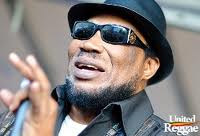 Morgan's talent won him the rights to work with the popular Jamaican comedy team Bim and Bam, performing around the island.
In 1959, Derrick worked with Duke Reid a producer, the acclaimed sound system boss, to record his debut single "Lover Boy" a.k.a. "S-Corner Rock" and a follow up "Fat Man" which was a hit in Jamaica.
The legendary Clement "Coxsone Dodd also worked with Morgan producing songs like 'Leave Earth" and "Wigger Wee Shuffle".
By 1960, Morgan become the unrivaled King of Ska. The only artist to cop the places from one to seven on The Jamaican Pop Chart simultaneously. "Moon Hop", "In My Heart", "Meekly Wait and Murmur Not', "Be Still" and "In My Heart" were some of his big hits.
Singer Derrick Morgan biggest hit ever was in 1961, "You Don't Know", a Leslie King production but was later retitled "Housewives Choice" by a local DJ. This song also featured Millicent "Patsy" Todd and was the spur of sparks between Morgan and Prince Buster.

The two became rivals, engaging in a musical feud, which saw them exchanging heated songs like "Blackhead Chiney Man", "Blazing Fire", "No Raise No Praise", "Still Insist" by Derrick Morgan and "Watch It Blackhead" by Prince Buster.
The dispute became so heated, even the fans were starting at each other. The Jamaican government intervened, calling a cease-fire and brought the two performers together publicly to end the feud.
"Forward March" was the first Independence song to celebrate Jamaica's emancipation and it was sung by Morgan.
Some other top quality songs released by Morgan were "Tougher Than Tough", "Conquering Ruler", "Do the Beng Beng", "Moon Hop" and a rendition of Ben E. King's soul hit "Seven Letters" which was produced by Bunny Lee.
The singer Derrick Morgan had to reduce the number of stage appearance due to failing eyesight. In the early 70's he occasionally performed at ska shows around the world and was often backed by guitarist Lynn Taitt.
In 2002, he was reunited with ska legends at a two night ska concert in Toronto, Canada. Among him were The Skatalites, Lynn Taitt, Prince Buster, Alton Ellis, Derrick Harriot, Roy Wilson and Owen Gray to name a few.
He appeared on the bill at the annual Augustibuller Festival and his song "Tougher Than Tough" was featured in the video game, Scarface: The World is Yours.
He was also the producer of the era's most distinctive artists, such as Bob Marley Jimmy Cliff and Garnett Silk.
He lived primarily in the UK since the late 60's but remained popular in Jamaica ever since.
Pages related to Singer Derrick Morgan
Go to Top reggae artists from Singer Derrick Morgan Page
Return Home from Derrick Morgan page
Articles On Dancehall Reggae World You Might Have Missed ......
Jun 20, 18 08:53 PM

History About Reggae Music and Facts - Reggae Music, Jamaican Music was mostly all about the culture and the island of Jamaica.

Jun 20, 18 03:47 PM

Zagga - Bad and Hungry Amini Music - Reggae artist Zagga is back with a brand new single titled "Bad and Hungry".

Jun 19, 18 10:23 PM

Best Bob Marley Playlist - Thinking of putting together a list of Bob Marley's tracks? Let us help you with that.