Inner Circle Light My Fire ft. Konshens & J Boog
Inner Circle Light My Fire ft. Konshens & J Boog - Grammy award winning reggae group Inner Circle has teamed up with Konshens and J Boog for a collaborative new single entitled "Light My Fire".

This remake of The Doors hit song "Light My Fire" puts a reggae spin on the original song.  With the cool vibes you would expect from Inner Circle, this song will surely not disappoint reggae music enthusiasts.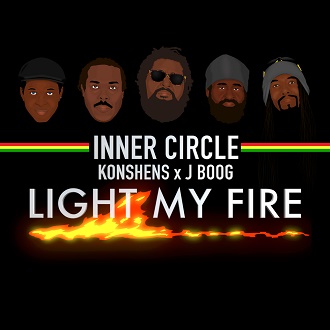 Inner Circle intends to garner support from new audiences with its custom animation music video for this song utilizing the talents of Upsetta, an up and coming animation specialist.  In this video which has a carnival theme, custom animation specialist Upsetta takes the legendary Inner Circle to a place where creativity runs rampant.  Words cannot explain the authenticity and creativity that went into this music video.

Following this release Inner Circle intends to put out new music featuring Maxi Priest and Mykal Rose.

Beginning in January 2018 Inner Circle will be celebrating 50 years in the music industry. This Jamaican bred, Grammy award winning quintet, is one of the world's most respected reggae groups with a long string of successes stretching back to the mid-70's. Inner Circle blends a special style of pop-oriented Jamaican beats and energy that have made them the leading stars of their movement.
Their spirit through the power of reggae within live performances has allowed the band to transcend the traditional reggae niche and create a widespread crossover appeal. Inner Circle plays at many of the world's largest music festivals, headlining alongside such towering pop and rock music icons as Ziggy Marley, Ms. Lauryn Hill,  Elton John, Van Morrison, Jimmy Page, Robert Plant, Carlos Santana, and many others.

<iframe width="100%" height="300" scrolling="no" frameborder="no" src="https://w.soundcloud.com/player/?url=https%3A//api.soundcloud.com/tracks/332520973&auto_play=false&hide_related=false&show_comments=true&show_user=true&show_reposts=false&visual=true"></iframe>

Commemorating the 50 years in the music industry Inner Circle will be releasing a new book and documentary.

For more information on Inner Circle please visit badboysofreggae.com

For press and bookings please contact innercirclemp3@gmail.com
Tag Inner circle   Konshens     J Boog

Return to Homepage from Inner Circle Light My Fire  page