Dancehall Terms Slangs only used in the Dance and parties
"Jamaican Patios"

The following dancehall terms slangs are unique to the dancehall parties and clubs.
Here we go!... hope you enjoy them!
1. Passa Passa ---Is a party/dance or to describe a fuss or fight.
2. Lyrics---Words for a song or when a man is courting a woman.
3. Sketell Bomb---used to describe a woman as a whore.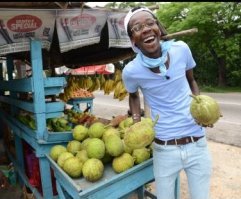 4. Ukubit---To describe a tight Vagina.
5. Fluffy Diva---Is a fat or over weight woman.
6. Gaza Mi Seh---Used to align one self to the Portmore Empire which is headed by Vybz Kartel.
7. Gully Mi Seh---Used to align one self to the Gullyside Crew headed by Mavado.

8. Breed Easy---Means to stay cool or take it easy.

9. Daggering ---Is a form of dance which includes a lot of hard thrusting.
10. Shell down---This are words used by selector/Dj's to say that they did a good job at a dance or party which he/she performed.
11. Party Hard---To enjoy one self to the fullest.
12. Gallis---Used to describe a man who is intimately involved with more than one woman.
13. Gal Clown---Is a man who's woman/wife beats him.
14. Wifey---Is another word for a man's wife.
15. Hot Skull---Another name for someone who is a thug.
16. Batty Boy---To describe someone as being gay.
These dancehall terms slangs are also used by youths on the street corner regularly.
Read more about dancehall terms here..

17. Freaky---Is used to describe someone who does Oral sex.
18. Fassy---Someone who is not loyal to his friend or crew.
19. Informa---Is someone who gives information about another person to the police.

20. Goodas---Is a woman who is independent and also have everything going her way.

Pages related to Dancehall Terms Slangs

Have one of these Dancehall Terms or words?
We welcome your unique Dancehall terms or words used only in the dancehall?. Share it!.
See what other visitors have sent in..
Click below to see contributions from other visitors to this page...

Return home from Dancehall and Slangs
You are welcome to join my special friends list and receive exclusive updates (like this) videos, breaking news, albums, new songs and promotions from players in the Dancehall and reggae music industries, send direct to your inbox.

You can also follow us for my updates! Link up @ Facebook |Twitter |Instagram