Dancehall bashment the Slang of the Dancehall

"Dancehall Bashment" You may asked what does this word mean?. This is just another word for a party or dancehall session.

This dancehall slang is used to describe dances and parties.
At times persons would refer to parties and dances using this word.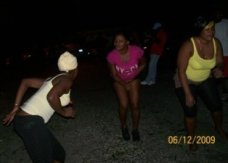 Most promoters would used this slang as the headline to their party or dance to get a large turn out of patrons at his/her event.

This slang was also used in a roots play with the word "Granny" added to it and it's still rated as one of Jamaica's best roots play ever.
Even though the slang is not being used very often presently, you can and will still hear it being utter sometimes when someone is being asked if they are going to a dance or party.
In our opinion, "Passa Passa" is the only other dancehall slang which has out done this slang/dancehall term.

Pages related to Dancehall Bashment
Articles On Dancehall Reggae World You Might Have Missed ......
Jun 18, 18 10:47 PM

Foundation Reggae Festival - Since the year 2001 in which the first edition has been held, there have been numerous bands that have passed on its stage.

Jun 18, 18 09:27 PM

Marcia Griffiths collaborates with Chronixx and Sly and Robbie - Veteran singer Marcia Griffiths is hoping to score with her latest single Queen of Paradise.

Jun 18, 18 08:32 PM

A Big Win for Jah Works at 'Japan Rumble' Sound Clash - June 2018 — Yokohama, Japan — Once again, Jamaica's competitive art form of sound clash has transcended cultures as evidenced by the sold-out Ja…