Dancehall bashment the Slang of the Dancehall

"Dancehall Bashment" You may asked what does this word mean?. This is just another word for a party or dancehall session.

This dancehall slang is used to describe dances and parties.
At times persons would refer to parties and dances using this word.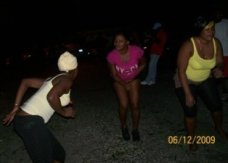 Most promoters would used this slang as the headline to their party or dance to get a large turn out of patrons at his/her event.

This slang was also used in a roots play with the word "Granny" added to it and it's still rated as one of Jamaica's best roots play ever.
Even though the slang is not being used very often presently, you can and will still hear it being utter sometimes when someone is being asked if they are going to a dance or party.
In our opinion, "Passa Passa" is the only other dancehall slang which has out done this slang/dancehall term.

Pages related to Dancehall Bashment
You are welcome to join my special friends list and receive exclusive updates (like this) videos, breaking news, albums, new songs and promotions from players in the Dancehall and reggae music industries, send direct to your inbox.

You can also follow us for my updates! Link up @ Facebook |Twitter |Instagram