Stay up-to-date with all that's new at Dancehallreggaeworld, Click Here to subscribe for my updates and don't miss a thing!  

UK's Black Slate-Peaceful Demonstration releases April 28

Black Slate was formed and based in the United Kingdom in 1972 and worked originally as a backing band, members would work with other Jamaican artists like Leroy Smart, The Heptones, Johnny Clarke, Ken Boothe, Dennis Brown, Jimmy Cliff, Toots and the Maytals, Sly & Robbie and Peter Tosh.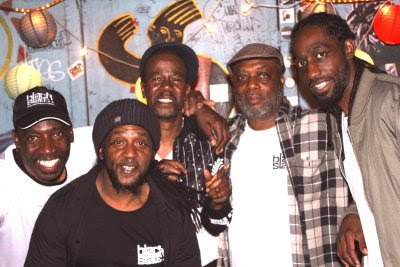 Track Listing:  Daylight, In The City, Look Into My Eyes, Predator, Feel the Love, Should I Stay or Should I Go, Build Mama Africa, I Can't Breathe, Peaceful Demonstration, Amun, Thinking Out Loud
 
From the first strains of the lead track Daylight the lyrics recall the final stages of a party as the sun starts to rise over the lover's rock tempo.  Soulful vintage-style support vocals, moody keyboard lines fortify a sweet lament from the lead vocalist Gaven as the party is coming to an end. 
 
For In The City, Gaven sings "sirens in the city, day and night, sounding so alarming"  a vibe that harkens to the era of Curtis Mayfield or Marvin Gaye, a soul searching exploration of the modern times, lessons learned from the past. Also sung by Gaven is Look Into My Eyes  with a Lover's Rock feel as questions are asked from a romantic perspective.  The one drop works the gratifying chord changes over stylized drums and percussion with organ builds. 
 
Predator cites the issues faced by the poor, and those predators that prey upon them. Delivered as a sparse nyabinghi drum and acoustic guitar lament, the refrain "can't let them take our soul" raises the consciousness to another level.
 
Feel the Love opens with soulful guitar lines  that thread throughout the vintage vibes as the vocalist Gaven reflects on the lack of clarity in the relationship asking "Who's going to pick up the pieces to make us one again? "
 
Next is a one-drop cover of Should I Stay or Should I Go which pays homage to Black Slate's comrades-in-arms from the rich history of the UK music scene, the punk-influenced rock group The Clash who were  deeply influenced by their reggae counterparts, right down to their name, a nod to the Sound Clash concept formed in early reggae dancehall trends.  
 
For Build Mama Africa the group draws for vintage Harry Belafonte and mento music for the chorus singing the chorus for "Dayo":  "Daylight come and I want to go home" in a repatriation-driven message for the Motherland.  A Steppers-style rhythm drives a militant message of hope and the mission of rebuilding Africa.  The song at just over 5 minutes has a lengthy instrumental outro with crash cymbals, intricate guitar lines and soulful organ progressions.  
 
I Can't Breathe takes its name from the tragic last words of Eric Garner, the African-American killed by police who were in the process of arresting him for a misdemeanor type of charge and used excessive force.  The bridge of the song's lyric asserts what living in this "struggle I can't leave" is like under the spectre "we really don't know if we're going to make it."   This tribute to Mr. Garner is the griot's tale the current events inspiring the reminder in the lyrics "just want you to know Black Lives Matter just want you to know "Black Is Beautiful".  
 
The title track, Peaceful Demonstration finds the band asserting their agenda for these times, the lyrics offers solutions citing Martin Luther King's vision and advice to "no bother with your problem mind, its a waste of time."  Their demands being the right to "educate and free our minds".  Horns drive the clarion call as the lead vocal Gaven are supported with harmonies to further the demonstration of group demands.  
 
For Amun (See No Evil) a deep roots one drop rhythm is the backdrop for Jessie to sing the definition of the ancient Kemetic word meaning 'see no evil'. A bonus track, a reggae cover of UK's Ed Sheeran, the chart topper Thinking Out Loud closes out the set. 

In 1975 Black Slate became their own group and had a hit in 1976 with the song Sticks Man. Black Slate had other successful songs during this period like Mind Your Motion, Boom Boom and the the massive world wide hit: Amigo.
 
Black Slate Band members: 
Anthony "Pure Silk" Brightly on keyboards, Chris "Music House"Hanson on rhythm/lead guitar and Desmond "Drummy" Mahoney on drums and percussion represent the first generation of members in Black Slate.   Colin "Steam Fish" McNiesh on bass, Jessie "Energy" Brade on lead vocals, known as J.E.B. and Gaven "Magic voice " Creary also on lead vocals, known as G.M.B. represent the newer additions to the band lineup.  
 
The father of keyboardist Anthony Brightly, George Brightly managed the band back in the day, he was also a promoter, DJ and wholesaler.  The band started off going by the name Young Ones From Zion.  Guitarist Chris Henson came up with the name Black Slate when working at a telecom service, choosing the name from a type of cable which was used in transmission and communication.  The name Black Slate stuck as it was this type of slate that was used to write on in school like a chalkboard.  
 
It was during this period that the British rock and roll explosion was happening and in reggae there was a parallel contingent happening with groups like Aswad, Steel Pulse, UB40 and Black Roots all taking off during this period from the years 1977-1979.  It was also during this period that the "Rock Against Racism" movement was taking shape and Anglo bands like The Jam, Generation X and Adam and the Ants were teaming up with their Afro-British counterparts.  
 
The band began to grow weary of touring to this degree.  Three of the original members chose to take a hiatus from touring life to help raise their families and establish sustainable business ventures.  Although the original lineup's lead singer and  bass guitarist decided to carry on with touring  with a new lineup.  The rest of the band started families secondary businesses and decided to remain at home in the UK and build businesses 
 
Some of whom were already pursuing careers outside of the band, in particular Anthony Brightly who was a well-regarded DJ often leaving performances to crowds of 500 people to go and spin records to a crowd that was twice that size.  As a DJ Mr. Brightly would become a driving force in the advancement of Lover's Rock and UK reggae in general through his work as a Disc Jockey, Club owner, Artiste Manager and event promoter, shaping airplay and artist growth both at radio and in the club setting. In 1987 Mr. Brightly also became the manager for sound system collective Stone Love Movement and was instrumental in shaping their career globally to become the biggest touring sound in the world. 
 
Original member Chris Henson became a sought after mix and mastering engineer, adding his unique touch to thousands of songs over the past several years right up to the present.  He founded Music House Dub Cutting, Mastering and Processing which over the past 25 years has been responsible for 80% of the mastering in reggae albums including releases such as the recent EP by Chronixx "Dread and Terrible".   
 
Mr. Brightly relocated to the Caribbean island of Antigua in order to raise his young boys in a different environment outside of the UK.  When these original members' children began college, they determined it was time to hit the road again.  
 
Recent tours have included performances in the UK and the US at Austin Reggae Festival and additional Northern California club dates.    

Post Your comments/ views about this artiste below..
Post your views/comments on this artiste below also read what others have said about him/her.
Return to Homepage from Black Slate page

Want to learn more about Reggae Music? check these pages below...
New! Talk to me
Was the information helpful? Something needs changing? I welcome your feedback here.

Great Articles You Might Have Missed
Please send us your Feedback, News, Photos, Press Releases, Music and/or Videos to our WhatsApp Number: 1-876-395-8008 or Email: info@dancehallreggaeworld.com


Not what you are looking for? Search the web for more Dancehall Reggae music information below...
Researched Information pages