Barbee dancehall, reggae and R&B singer - The name Barbie is categorized by many as the name of a star like doll for girls. Barbie symbolizes endless change but constant quality.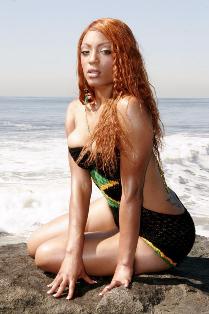 In this regard Barbee the singer is much like her doll counterpart. Barbee was born Faith J Eselebor in New York City.


This unknown little girl eventually metamorphosed into a recording artiste, song writer, fashion model and now worldwide superstar. With a Nigerian father and a Jamaican mother Barbee began singing at the age of five, and by age 11 she was the leader of her traveling choir "Perfect Praise".

At age 16 Barbee was as a member of a girl group called "Best Kept Secret". The group opened for acts such as rappers Jadakiss, Cameron and others. However, due to circumstances, the group broke up. This would have discouraged many persons, but not Barbee.

Choosing to persevere, it was obvious it was time to go solo and she did so in a spectacular way by recording her first single "Missing you" with the culturally riveting Jamaican artiste Junior Kelly.

The single received tremendous airplay throughout the Caribbean the northeast United States), Canada, and West Africa. It was number 3 on the charts in Jamaica and became a street anthem.

Due to years traveling between her parents' native countries, Barbee soon developed a natural love for Jamaican music. This love showed in her first single "Missing You".

In 2007 (the same year she released her first single) the young artist also worked with the king of the dancehall "Beenie Man", being featured on the Revenge Riddim and in the video of Beenie Man's hit single "Give It Up" earning her, her first number on the charts.

The success of the single with Beenie Man opened the international market to Barbee, and she grabbed it with both hands. Later that year she recorded "Paddy cake" (featuring Beenie Man), "Diva in My Sneakers" and "Light Some Candles tonight".

In 2008 Barbee released the hit single "Love You Anyway" which graced all major reggae charts globally. The video for "Love You Anyway" received heavy rotation on several Jamaican radio stations and cable stations, thus showing its prestige.

In 2009 the recording artist came out of the studio with a new single produced by Dean Fraser, a cover version of Karen white's song "Can I stay with you". However, what can be sighted to be her best work for 2009 is her hot single "Feel So Good" (also produced by Dean Fraser).

The single also yielded a sexy yet copasetic video which received global accreditation. Barbee will also be doing an appearance cameo in a move named "House Arrest", Staring Stacy Dash and the Game. The film, described as a "dramedy" by director Billy Washington, centers around a "high maintenance girl who meets a quick money scheming man."

Barbee has had several mind blowing performances for 2009. These include the 20th Annual Susquehanna Community Festival in Philadelphia, which she performed alongside Hall of Famer Jazz/R&B icon Bobby Womack, whose music is both legacy and as current as love, the legendary Cuba Gooding Jr. & the Main Ingredients, songbird Carol Riddick, hip hop legend Biz Markie, rapper Tuffest and Sledge.

The 'Love You Anyway' sexy singer also hit The Brooklyn Music Festival Father's Day tribute which pulled a huge crowd, all of which enjoyed every moment of the dancehall doll along with Beenie Man, Capleton, Mavado, Bounty Killer, Elephant Man, and Tarrus Riley. Barbee and the Dance Expression group took California by storm, where she left her mark as one of the stars of reggae, alongside Junior Reid, and others.

She also had a remarkable performance during the Irie Reggae Festival where she got the crowd nice and energized right before legendary Beres Hammond came out to perform. One of the largest crowds in the Northeast of the United States was when she did the most spectacular performance ever for the New Jersey Reggae Fest.

She captivated the crowd with her sexy dance moves and beautiful voice to top it all off. Barbee is expanding her love for music and sexy, sultry dance moves to others by recently opening her very own music studio in Manhattan, called The Rare Diamond, as well as putting together a captivating dance group called the Dance Expression Group.

The sky is not the limit for this sassy singer, she claims the universe. There is just no telling what this Devoted, Talented, and Energetic Singer going to do next. Barbee is becoming a household name in reggae music, as versatile and creative as she is fulfilling the request of her fans all over the world, and doing an excellent job at it.

Check out Barbee Come See About Me video here..
Please send us your Feedback, News, Photos, Press Releases, Music and/or Videos to our WhatsApp Number: 1-876-395-8008 or Email: info@dancehallreggaeworld.com


"Reggae its exotic and has cool vibes that expresses truth and real life stuff" - Ket Leash

Not what you are looking for? Search the web for more Dancehall Reggae music information below...
Stay up-to-date with all that's new at dancehallreggaeworld.com, Click Here to subscribe for my updates and don't miss a thing!
Also connect with Dancehallreggaeworld.com on Social Media:

 
Facebook | Twitter | Instagram | Youtube
Thank You!