The Don Deejay Peter Metro Dancehall Reggae Artiste
Custom Search
Reggae singer and Dancehall Deejay Peter Metro, birth name Peter Clark was born in 1960, in Kingston, Jamaica.
Peter was a student in Cuba and also did part-time work as a welder while studying, this was before he started on his deejay career.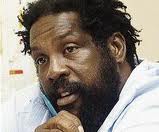 Metro once worked as a deejay on Metro Media sound along side Zulu.

He started to deejay for fun, but later realized that most people liked his style. This led him to pursue a career as a dancehall/reggae artist.
His first stage name was Peter Ranking, but he had to discontinue the use of the name since another artist had the name before.
Most of the dancehall and reggae artists who started there career in the 1980s, started out deejaying on sound systems. Peter was a DJ on Metro Media Sound system, so he decided to adopt the Metro to his name, calling himself Peter Metro.
Cuba is a spanish speaking Island in the Caribbean and this led to Metro being able to speak the language fluently. Most of his songs were done in spanish and this helped to propelled his music in South America.
He was first featured on a split album with Yellowman and Fathead done on the Absissa record label in 1982.
One of his biggest single is "Don't Give Me that". Its an Anti Cocaine song which made reference to a friend (Richard Pryor's) mishap with crack cocaine in 1980.
The Dancehall Reggae singer has to-date (2010), released five (5) albums.
1. Yellowman, Fathead & The One Peter Metro-1982
2. Sinbad & Metric System - 1983
3. Dedicated to You - 1984
4. Live with Yellowman and Sassafrass - 1984 and
5. The D.J. Don - 1986
He is definitely one of the top reggae artist from the 1980s-early 1990s.
Pages Related to Deejay Peter Metro
Share your views/ comment on this Artiste!
Do you have a great story about him/her? Share it!
Go to Metro Media Sound system from deejay Pete Metro page
Return Home from deejay Peter Metro page
Articles You Might Have Missed ......
Dancehall and Reggae Music Articles
Dancehall Reggae World's Favorites
Custom Search