Chardavid aka Iley Dread - dancehall and reggae music singer
Custom Search
Colin Levy, Chardavid aka Iley Dread, singer, songwriter, producer, began his humble beginnings in Hanover, Jamaica and later migrated to Canada and emerged onto the Canadian Reggae scene in Montreal, Quebec In 1992.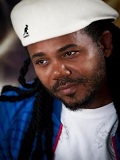 Iley assisted in his familys restaurant business The Rainbow Ites when he emigrated to Montreal. While working at Rainbow Ites, Iley was writing and producing for young local talent and he sometimes performed at the Ites talent shows.
In 1994 Chardavid was introduced to Bevin Jackson, the owner of Bulleyes Recording Label. Bevin encouraged Iley to record his own material and start his own production company, by the following year there was the birth of Kings of Kings. Bevin became Ileys mentor and he produced quite a number of songs for Iley, five of which were part of Chardavid first album, A Friend For Life. This association was cut short because of the untimely passing of Bevin due to injuries he received in a motor vehicle accident. A Friend For Life was released in 2001; this album featured appearances from Glen Washington, Lady Saw, Louie Culture, Luciano, Chrisinti and Norris Man among others.
A Friend For Life, spawned popular hits such as Rise Up This Morning, Flowers In My Garden, World Crisis and Mamma which is still enjoying heavy rotation on music television and radio stations in the United Kingdom. The Kings of Kings label is well known for having several successful Dancehall rhythm driven albums such as Famine, Double Jeopardy, C4 and Coolie Dance, which have featured dancehall heavy weights such as Elephant Man, Sizzla, Lady Saw, Bounty Killer among others.
Chardavid was awarded Canadian Award of Merit at the Canadian Reggae Music Awards in March 2001. In 2002, A Friend For Life was nominated for a Juno Award by the Canadian Academy of Arts & Science in The Best Reggae Recording category. Iley takes great pride in the lyrical content of his songs and his material reflects his deep rooted spirituality and his heartwarming sensitivity. Not only has Iley made strides as an artiste, but also as a songwriter; he has penned and produced many a song for Grammy Rose - Michael Rose, Beenie Man, Everton Blenda, Sizzla, the late Dennis Brown and a host of other reggae artists.
At the Canadian Reggae Music Awards in March 2003, Iley Dread was Awarded The Bob Marley Memorial Award. Unite The People, Ileys sophomore album project was released in October 2003. This album is a mixture of Conscious Rebel Music and Lovers Rock fused with Ska, Rock Steady and some really hard driving grooves from the Dancehall era reminiscent of the 1970s and today. Unite The People reveals a profound maturity and growth of Iley Dread as a songwriter, producer and artist, via the production, assembly and delivery of the components of this album. Iley Dread is joined by Marcia Griffiths, U-Roy, Sizzla, The Heritage Family, Capleton, Anthony B, Chrisinti, Norris Man, Warrior King, Heather Cummings, Rochelle Bradshaw and Andrew Ranxx on this album.
The most requested singles from this album are Trying Man, One Chance, I Wont Rest/Clean Up and If I Had The World. Chardavid the artist and CEO of Kings of Kings has made even more positive inroads into the United Kingdom and European markets. Unite The People has picked up where A Friend For Life had left off and is currently in heavy rotation on radio as well as television on both sides of the Atlantic. Ileys music videos can be seen on MUCH MUSIC Canada, BVTV and NTL Network in the United Kingdom and on many ethnic music variety programs across North America. Unite The People is distributed by VP Records and is available at all leading record shops.
Share your views/ comment on this Artiste!
Do you have a great story about him/her? Share it!
What Other Visitors Have Said about this artiste..see below
Click below to see contributions from other visitors to this page about this artiste...

Iley Dread Not rated yet
Reggae Singer Iley Dread has released a single from his "Unleashed" album entitled "Lover's Holiday". According to him, he has been getting a lot of …
Return home from reggae singer Chardavid aka Iley dread page
Articles You Might Have Missed ......
Dancehall and Reggae Music Articles
Dancehall Reggae World's Favorites
Custom Search