Shifta Starts 'Do You Wanna' Tour In Jamaica

Kingston Jamaica Fast rising Caribbean fusion artiste, Shifta Mason is back in Jamaica on a promotional tour pre-empting a larger international tour set to begin this month.
He is set to appear on the RJR Group Cross Country Invasion Road Show in Jamaica this weekend which heads to locations in St Ann and St Catherine.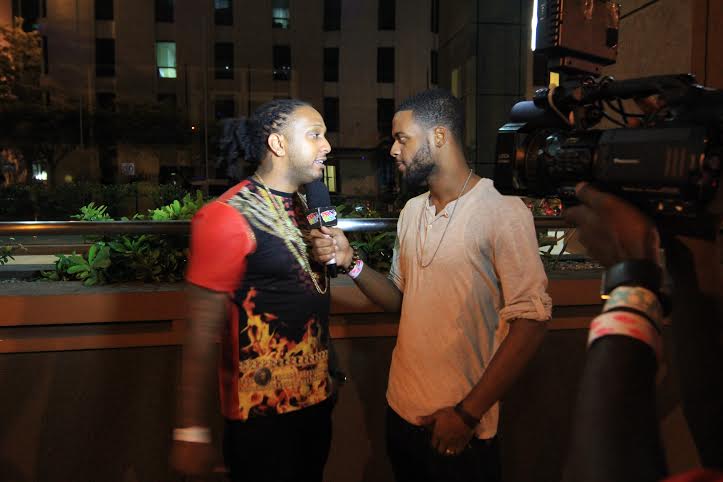 Shifta during an Interview with Flow TV
Last weekend he performed on the tour to fans in Montego Bay, Negril, Lucea and Sav-La-Mar and was well received by many with persons singing along to a few of his tracks including his latest hit 'Do You Wanna'. 
The 'Do You Wanna' single with Universal Japan signed artiste Chenelle, is performing remarkably well overseas, He wants this visit to also re-energize the single here in Jamaica.

Already the single has topped the ITunes Reggae Chart peaking at the number 1 spot in January. The music video for the single has also been picked up on International Video platforms MTV & Vh1 national networks and also hit 1 million views on YouTube since its upload in December 2014. His visit to Jamaica will also give him the opportunity for recordings in the home base of Dancehall and Reggae Music, he will be completing projects for Dj Nicco , Fras Twins, Leftside & Tony Kelly.

He is also finishing a Collabo EP project with platinum selling artiste Chenelle which is set for its release in summer 2015. His solo EP that will also be released this year is also in its final phase.

CEO of Timeless Entertainment Mr Rasheed.Ali has been negotiating multiple offers from major labels and is in the process of organizing a Japan tour this summer along with confirming events in South America, Europe and US college tour which begins later this month.          

He's excited to be in Jamaica starting his tour season "Everything for me begins in Jamaica, the music is no different. So the touring of that music for me has to begin in Jamaica as well, it always begins at home and I'm excited to be back home" he explained.
With his schedule already looking quite full for the remainder of 2015, Shifta is also happy to be home to reconnect with family and friends in Jamaica as he will certainly be kept busy recording and touring for the rest of the year.
Pages Related to Recording artiste Shifta
Return to Dancehall and Reggae Music pagae from here

Articles On Dancehall Reggae World You Might Have Missed ......
Jun 21, 18 06:17 PM

Dancehall Meets Afrobeat K'Coneil ft StoneBwoy Balance - NY, JA, GH (MPR Consulting) - No summer 2018 soundtrack can be complete without the addition of the hit bound single BALANCE performed by K'Con…

Jun 21, 18 11:44 AM

Bob Marley Reggae On Broadway was released by Reggae music's legend Bob Marley in 1972 on the "Columbia" record label.

Jun 20, 18 11:00 PM

Daphie Daph, Rey Nato, Iyobel, Chenaya Highest Grade - Greezzly Productions have just released a video for the song Highest Grade on his Roots & Kulcha Riddim.