SENTINEL from Germany is victorious in seizing the No.1 Spot for "Best Sound of the Year 2012" at RIDDIM Magazine´s Readers Poll.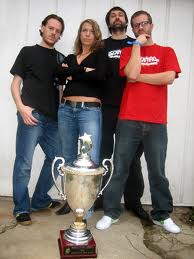 It is the fourth time the sound system gets this great feedback from the Dancehall & Reggae Crowd throughout Europe.
SENTINEL stemming from Stuttgart, Germany, founded in 1999, first enjoyed international fame after winning the I&C World Clash 2005 in Brooklyn.
Until today, no other soundsystem from mainland-europe has been able to draw level with this success. The "everlasting sound" has always been promoting dances, events and festivals throughout its 14-year old career and thus has always been offering a platform to many jamaican artists or sounds on the european market.
While soundfounders NADIA and ELMAR are more and more shifting their field of operation into managing the sound system and it´s bookings, the NEXT GENERATION of the Sound, consisting of MC OLDE, MC ALLGI and SELECTOR DANIEL have been sucessfully carrying the torch to continue the sounds live activities in 2012 and 2013.
Sentinel will perform at Europe´s most popular Soundclash WAR INA EAST on March 30 in Holland versus Kosmik Sound from New York and Yardbeat from Japan. MC ALLGI and SELECTOR DANIEL will represent for Sentinel on the battlefield and are positive about Sentinel being active in the Soundclash arena again.
As juggling wise for 2012, Sentinel performed all over Europe with multiple Shows each weekend and also performed an excellent festival showcase in Israel longside T.O.K as well as in Antigua longside Bass Odyssey.
Festival Season 2013 will be hot. See Sentinel performing on Summerjam 2012 here: https://www.youtube.com/watch?v=9Pb0NrcJ6YA