Stay up-to-date with all that's new at Dancehallreggaeworld, Click Here to subscribe for my updates and don't miss a thing!  

Sanchez Reggae and Gospel music singer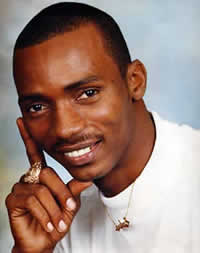 After releasing 29 albums and over 70 singles to date in a career spanning over sixteen years, Sanchez is well pleased. As a recording artist, he is a happy man, whose first recording was the Techniques' - Riley- produced 'Sad Song', still unreleased.
Sanchez first released single was 'Lady In Red'. His first hit was 'Loneliness,' the # 1 chart smasher. Sanchez first album was also titled Loneliness. By the late 1990s, Sanchez' music was known and revered by fans and music lovers all over the world. His horizon broadened with the release of his first gospel album, ' Who Is This Man.'
The response was overwhelming, with the album becoming an instant hot item in both the legitimate market and for the professional pirates who have their main outlets in the United States. In 2003, Sanchez released his second totally gospel CD 'He's Got The Power.' "It is different than the one before and other gospel albums out there," said Sanchez.
His latest secular album is the scintillating 'No More Heartaches,' The sweet sounds of the Nightingale is rocking all the way. If you love your music with vibrant rhythms, compelling words delivered by a golden voice, and a melodic range that is inspirational, then Sanchez' releases are for you.
Sanchez is one of the all time favorite singer/performer who transforms his audience into a mass choir at his live performances. He epitomizes elegance and style and is always splendidly attired in a formal suit, enhanced with gold chains and bracelets, giving fans the ultimate in appearance and presentation. His selection of songs range from soulful R&B to hardcore Dancehall, Reggae, balanced with religiously calming cuts that enhance the spiritual vibes of his act. Entertainment writer, Howard Hendricks, describes Sanchez's voice as "a supernatural gift from a loving God that can out sing any Nightingale, and he possesses one of the sweetest male voices in popular music".
At a recent concert at the Hard Rock Cafe, Disney World in Orlando, Florida, Sanchez hit the stage dapper-style, in white shoes, a white three-piece suit and white felt hat. His impeccable performance matched his immaculate attire.. The consummate lovers' rock exponent, whose fan base is predominantly female, tore down the place, while he was entertaining a full house. That is indeed the norm for this singer who says "I love music to the max." Sanchez's strong church background is evident in his delivery of the song 'Amazing Grace'.
Born on November 30, 1964 in Kingston, Jamaica and christened Kevin Anthony Jackson, Sanchez grew up with his Mother, Father, two brothers and two sisters, in the Stony Hill and Waterford Communities under strong Christian principles. He says, "I had to go to church every Sunday and often during the week as well. I was a member of the Rehoboth Apostolic Church junior choir and later the senior choir where I was the lead singer. I just love singing and going to church.
However, when I started to attend St. Andrew Technical High School, I started hanging out with a new set of friends, things began to change and we would go to parties where sound systems like Rambo, Small Ax and Crystal would play. I really began to like the music and went through a period of conflict which later resulted in me drifting from the church." The former choir leader became a selector for the Rambo Sound system; a system on which many of his close DJ colleagues such as Flourigan, Lizard and Red Dragon also worked out. (By this time, he had been renamed Sanchez by his friends. and soccer team mates because of a highly skilled pass he made that was reminiscent of the great Brazilian soccer star Hugo Sanchez).
As he gradually moved on to singing at these parties/sessions, the response he received was encouraging. Sanchez soon began voicing for some of the top record producers in the business: Red Man, Winston Riley and Fattis Burrell. In 1987, Sanchez's first single "Lady In Red" was released; soaring to the # 19 slot on JBC Radio record chart and that was very encouraging for young Sanchez. "It was a great feeling to hear my song playing on the radio." Receiving the South Florida 1999 Reggae-Soca Award for best gospel song. "Amazing Grace" His first hit, the Winston Riley produced, 'Loneliness,' recorded in 1988, is still one of his biggest hits. In that same year, he was voted Singer of the Year, Best Up and Coming and Best New Artist by Rockers and Bins awards respectively.
'Loneliness' was also voted Song of the Year, and this led him to his first appearance at Reggae Sunsplash. Since Loneliness, Sanchez has scored with big hits such as, "Wild Sanchez", "Love Mi Lover Bad"(a combination with DJ Florigan), "Fall In Love," "If I Ever Fall In Love Again," "Pretty Girl," "One In A Million," "Hello," 'Amazing Grace,' and "Frenzy." Frenzy won for Sanchez the 2002 songwriter of the year award from The Martin International Awards. Sanchez most recent achievements are: An Award from Authentic Real Music in recognition of Sanchez's 20th year in Reggae Music.
Award from Sanchez's UK Fan Club, for being an excelent Reggae ambassador to the world. A Crest of the Township of Harrow, City of London, presented by the Mayor. Receving a Proclamation and the keys to the city of Hartford, Connecticut, March 5th 2004. Presented by Jamaican born Vice Mayor Veronica Aird-Wilson, on behalf of the Mayor Hon. Eddie Perez.

On November 15, 2003 he was inducted in the International Gospel Hall of Fame and received the Governor's Cup for excellence at the Cairbbean American Gospel awards CAGA. The presentation was made by U.S. Congressman Kenrick Meeks and popular Jamaican businessman Roy Bramwell of Florida.
Previously the city of Lauderhill, Florida, rolled out the red carpet on Saturday night 5th, Feb.2000, in a ceremony presided over by the deputy mayor, Wally Alfers who awarded honorary citizenship to Kevin "Sanchez" Jackson and his wife Monica. the investiture was spearheaded by Chester McCollough, as part of Black History Month.
Other accolades he has received are the International World for Lovers Rock 2000, Ambassador for Reggae. The 1999 Reggae Soca Awards for the gospel song, Amazing Grace. He has been four time consecutive winner (1990-1994) of the best dress male artist, Rockers Award competition. All his clothes are designed my Monica Jackson. In his earlier days, Sanchez was labeled as the singer who does too many covers; yet by the same token, he was simultaneously acknowledged as a special singer who received much international fame and recognition from doing these same covers.
Sanchez explains, "Most times Jamaican producers are more willing to record songs that people are familiar with. I was able to break that cycle when I began recording original songs. My fans stimulated me to write because the critics used to question my writing ability, so over the years I have been writing a lot. The first original hit I wrote was 'Brown Eyes,' for the Shocking Vibes label, it went to # 1 on the Jamaican charts and did very well overseas. Some of the other hits I wrote are 'I Cant Wait,' 'Never Dis The Man,' 'Praise Him" 'Leave Out A Babylon,' and of course 'Frenzy'.
Nuff respect to Fitz Livermore, my guitarist and songwriter, who composed most of my other originals. I want to big up the other members of my backing band, Chronic, they are, Oswald "IG Gordon on Bass, Courtney 'Bubbla' Edwards, Keyboards and Joslyn "King Speckle" McKenzie on drums." A well seasoned group; Sanchez deals with his band in a professional and considerate manner and the result is like clockwork on stage.
A man with a mission, who loves cooking, fashion designing and music collection. Sanchez has a serene attitude towards life. When asked about his most inspirational artist, he replied, "We can't get better than Bob Marley, the one who pave the way. However, the artists whose songs I used to sing and tried to sound like them are Brook Benton, Sam Cook, and Tom Jones. And groups like the Temptations, the O'Jays, the Manhattans, Delfonics and The Dells."
On the topic of the different artists he has worked with, Sanchez said "Well, in the studio I have recorded many combinations with different singers like Marcia Griffiths, Chevelle Franklyn, Nadine Sutherland, Wayne Wonder, Bounty Killa, Florigan, Macka B, King Sound, Beenie Man, Sweetie Irie and more. While on stage, I have been billed with all the leading reggae singers at different times and have shared the stage on occasion with The Mighty Sparrow, Peebo Bryson, Ray Charles, The Manhattans, the Delfonics, the Dells, Donel Jones and Santana and it was everything I expected.
How does he feel about working in the studio as opposed to working on stage? "Well it's totally different because working in the studio things have to be correct, you are relaxed because you can do it over if needs be. Before you go on stage you still get a little chill here and there and feel shy because you are human. On stage if you lose track, you still have to continue, but people hardly hear it because they are singing along with you.
Share your views/ comment on this Artiste!
Do you have a great story about him/her? Share it!
What Other Visitors Have Said about this artiste..see below
Click below to see contributions from other visitors to this page about this artiste...


Legendary International Reggae Crooner Sanchez Wants his Voice to be Heard "In The Ghetto" Not rated yet
A staple for over the past two decades on the international music scene, Sanchez (Kevin Jackson) epitomizes the genre of Lover's rock by having covered …

Reggae singer Sanchez Albums and Compilations Not rated yet
Sanchez - Brown Eye Girl Album Track Listing 1. Can We Talk 2. Searching Feat. Bounty Killer 3. Take Your Time 4. Brown Eye …
Return home from Sanchez Reggae and Gospel music singer page.

Want to learn more about Reggae Music? check these pages below...
New! Talk to me
Was the information helpful? Something needs changing? I welcome your feedback here.

Great Articles You Might Have Missed
Please send us your Feedback, News, Photos, Press Releases, Music and/or Videos to our WhatsApp Number: 1-876-395-8008 or Email: necoflex@gmail.com


Not what you are looking for? Search the web for more Dancehall Reggae music information below...
Researched Information pages