Reggae recording artiste Nature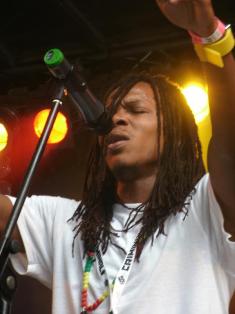 Nature - This past student of Saint James High School notes that one taste of the stage and the joys which a powerful performance can give, came from a talent competition at his Alma mater back in 2008, where Nature won the singing category of the contest.
'From my early years in Glendevon, Montego Bay, to the days when I lived in areas such as Cockburn Pen and Greenwhich Town in Kingston, I have witnessed first hand the struggle of the grassroot of the Jamaican society.
I have also seen what love can do to uplift a people; therefore it is my hope to start a chain reaction among my people.
As we all know positive action can only result in positive reaction. I strongly believe that if we put love first in all we do, then we would greatly reduce and even eliminate some of the social problems we face as people; nationally and even globally.
Love is who i am and therefore my music stresses this very strong emotion which can lift a people mentally, emotionally and spiritually. The love of which I speak ranges from the intimate affection between lovers, to the love from parent to child, to a love for humanity.'
Equally adept as a lyricist as he is a vocalist, nature credits his love and appreciation for a wide range of musical styles which cross all genres, for this gift as well as well as his versatility and unique personal vocal styling. he lists an interesting array of entertainers who influenced him; he stands proudly noting that they have paved for up and coming artists like himself.
Among the greats on his list is the King himself, Bob Marley, reggae crooner Beres Hammond, the late Garnett Silk and the very current Jah Cure. American R&B artist, the smooth Brian McKnight also makes the cut.

Ably guided by the management team from Heart of Love Prod. Nature is pleased with the pace of his career and the path he has chosen. Few recordings have already hit the streets, most recently 'hold on' and 'wasting time'. And prior to these youll find the reggae love ballad 'beside me', and the drivingly concious piece 'suffering'. these tunes have elicited nothing but positive feedback and the question which artists... is more in the wellspring from where these originated? to this nature emphatically responds in the affirmative... 'nuff more love to share'.
Share your views/ comment on this Artiste!
Do you have a great story about him/her? Share it!
What Other Visitors Have Said about this artiste..see below
Click below to see contributions from other visitors to this page about this artiste...

Return home from Reggae artiste Nature page