Ky-Enie The Reggae Warrior

With the spirit of a warrior, Ky-Enie's music takes listeners on a journey rooted in reggae with traces of dancehall, rock, acoustic soul, hip hop and even pop.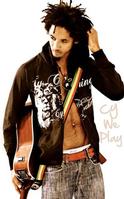 It transcends cultural and age differences, blending spiritual vibes and hardcore truths that display a depth and consciousness way beyond his years.
His latest singles Glory Day, Ghetto Dreams and You Deserve More display his hard-edged vocal styling, lyrical versatility and explosive stage personality, leaving audiences wanting more.
"More inspiration," he reflects, "comes from everyday life and mostly from the Most High; He is the one who pens all my work."
With a musical career spanning 12 years, the St Ann-born Ky-Enie has consistently delivered sizzling live performances to audiences in the Caribbean, North America, Canada and Europe.
Ky-Enie's dedication to excellence has led him to work with many great producers, including Ed Robinson of E2 Studio, Robert Livingston of Big Yard Music, Shane Brown, Barry O'Hare, Christopher Birch, Golden Chyl, Andrew Murphy and Beat Mania Productions' Kev Watts.
He credits them with honing the different styles of his musical gifts. These collaborations generated a successful first album Then, Now, After, which is still creating waves across the globe with hits like Wings Of An Angel, Old Time Tradition and Rain.
His single Lambs Bread blazed to the number one position on the Germany Reggae Charts and RETV International Reggae Charts in Jamaica. His song Don't Wanna Be Alone, heard on Big Yard/VP Records' My Baby rhythm, spent eight weeks on the top 10 reggae charts in St Croix. Rain was featured in the movie Shottas and continues to be an inspiration to many, both young and old.
His sophomore acoustic album Journey and a cover album featuring the songs of a few of his favourite artistes are among the projects on the table.
Ky-Enie intends to keep the fire blazing with music fit for the soul as he is gearing up for the release of a certified hit titled Glory Day with team member and friend Mic Royal and Iza Rebel of the 44musik label in Germany.
Ky-Enie's humble nature, along with his fierce determination and uplifting attitude, leaves him poised for continued success.
Post Your comments/ views about this artiste below..
Post your views/comments on this artiste below also read what others have said about him/her.
Below you will see the contributions from other visitors like you.
Click below to see contributions from other visitors to this page...


FANS REACT POSITIVELY TO KYENIE'S 'LOVE MEANS EVERYTHING' VIDEO Not rated yet
Kyenie's 'Love Means Everything' single has been connecting with fans since its pre release earlier this year, this due largely to the unique visuals for …

KY-Enie Releases Land of my Birth Not rated yet
Things are looking up for singer Ky-enie. The talented artiste has released the single Land of My Birth which was produced by Andre 'Dre-tegs' Hawthorne. …

Its a New Day for Reggae Recording artiste Ky-enie Not rated yet
A new day has dawned for singer and musician Ky-enie. After years of perfecting his craft and recording for various production entities including the …
Return home from Reggae artiste Ky-Enie page