Kernel Benz Stevens
by KERNEL STEVENS
(LAYOY,DOMINICA, W.I)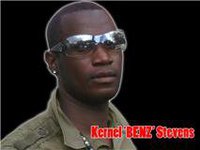 KERNEL BENZ STEVENS
Kernel BENZ Stevens A.K.A OLBENZ was born in the caribbean island of DOMINICA.


He was raised by his grandparents in a small ghetto village known as layou. He started singing at the age of 9 and wrote his first song at 11.
Raised in a christian home Benz was exposed to music by his cousin who played in the church band.
After finishing high school he joined a local dancehall group called LICKLE BOY SOUN where he recorded his first song BRAINWASH.
Kernel BENZ Stevens later release his debut album in 1998 entitled JUDGMENT wich basically launch his music career.
Known for his high energy perfomances and his abilty to sing in french and creole, benz definetly brings something unique to the music industry.
He is also known for song such as NEED U GIRL, WHITOUT YOU,GO GETY MY GUN,LAVIE and KA YO VEH amongst others.
Benz has performed internationally alongside top french and and english artist such as ADMIRAL T, MR.DALY, JEFFJOSEPH,DOMINIQUE COCO, KASSAV, SIZZLA, TURBULENCE,BOUNTY KILLA and others.
In 2007 he appeared on the jamaican reggae compilation "SOULJAH RIDDIM" with a song entitled CALL ON JAH which also featured top jamaican artists such as LUTAN FAYAH,LOUIE CULTURE, TURBULENCE and others.
Presently Benz has team up with one of Dominicas top music and video producer JOSEPH JA FOXX ROYER to form the BLAKKINGZ music label.
The label is responsible for producing the first ever Dominican music video(RED KLINIC MEDLEY) to be televised internationally on TEMPO TV.