Is the dancehall queen Lady Saw Engaged?
by DRW
(Jamaica)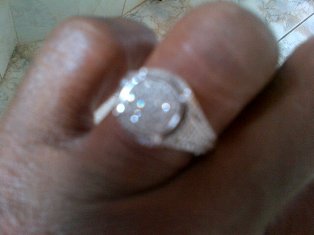 Lady Saw Ring
With news circulating on all social networks and in some printed media that the queen of the dancehall "Lady Saw's" longtime common-law-husband John John has allegedly gotten another woman pregnant. The Queen has taken to twitter showing off what seems to be an Engagement Ring.


Saw also twitted saying
"A gal run weh wid her baby as soon as she hear bout DNA lol u afi dweet"

"Every day mi husband love me more so my age nuh worry him but some gal nuh have no man fi grow old wid cuz all the man dem tek a people man"

Bitch when I get the Bigger Rock that my man order for me amma punch u in the mouth wid it.

"Some gyal a Balls catcher mi dune wid dem fi di day bye".
Lady Saw who seems a bit upset wanted to get a few things off her chest tweeted:
"When mi man make love to me him sleep with my cum on him dick til morn but him wash of u Quick n left, And that was the only time him run out a rubber."
What do you think about this..
Leave your comments below..