Veteran Reggae producer Henry Junjo Lawes

Henry Junjo Lawes (1960, Kingston, Jamaica — 13 June 1999, London, England) was a highly influential record producer.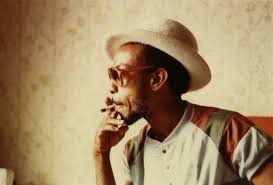 He worked with many reggae, dancehall and dub artists such as Linval Thompson, Scientist, Barrington Levy, Don Carlos, Frankie Paul and most importantly with Yellowman, all for his record label Volcano, which spawned a highly popular sound system of the same name.
Lawes' strongest dancehall production years ran through the roots reggae high point of the late 1970s to the emergence of computerised dancehall with the Sleng Teng rhythm in 1985. This means that Volcano effectively laid a large part of the foundation for dancehall as we know it today.
It is clear that Lawes was not a producer in the hands-on sense. In a January 2010 interview with The Gleaner, drummer, Style Scott, said, "I would more call him an executive producer, someone who provide the money more than arrange the music." The High Times Band was also key to Volcano's productions.
Lawes did strong overseas releases through the England-based Grensleeves, eventually bought by VP Records, whose late 2009 40-track Volcano Eruption gave an indication of the Volcano catalogue. Among the songs on the set are Police in Helicopter (John Holt), Ice Cream Love (Johnny Osbourne), Lost My Sonia (Cocoa Tea), Bible Story (Early B), Diseases (Michigan and Smiley), and Nobody Move, Nobody Get Hurt (Yellowman).
In June 1999, Lawes was killed in a drive-by shooting in London. He was 39. To date, his murder is unresolved.
Share your views/ comment on this Artiste!
Do you have a great story about him/her? Share it!
Return home from Reggae Producer Henry Junjo Lawes page
Articles On Dancehall Reggae World You Might Have Missed ......
Jun 21, 18 06:17 PM

Dancehall Meets Afrobeat K'Coneil ft StoneBwoy Balance - NY, JA, GH (MPR Consulting) - No summer 2018 soundtrack can be complete without the addition of the hit bound single BALANCE performed by K'Con…

Jun 21, 18 11:44 AM

Bob Marley Reggae On Broadway was released by Reggae music's legend Bob Marley in 1972 on the "Columbia" record label.

Jun 20, 18 11:00 PM

Daphie Daph, Rey Nato, Iyobel, Chenaya Highest Grade - Greezzly Productions have just released a video for the song Highest Grade on his Roots & Kulcha Riddim.