Ganja in Dancehall sessions and Clubs

The use of Ganja in Dancehall session and also some night club, Is very popular in Jamaica.
This herb is also known as Cannabis and marijuana.
The typical herbal form of cannabis consists of the flowers and subtending leaves and stalks of mature pistillate of female plants. 
The resinous form of the drug is known as hashish.
Ganja is said to be the most widely used illicit substance in the world.
Most of the artiste in the dancehall and reggae music industry uses this drug. They will tell you that it helps them to meditate.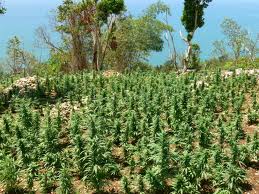 Most patrons attending dancehall sessions also uses Marijuana.
The possession, use, or sale of cannabis (ganja) is illegal in Jamaica and most part of the world.
In dancehall sessions and Clubs where smoking are allowed, cannabis is widely used.
The users will tell you that it gives them a good vibes (feeling) when they burn it. (smoke it)
Contrary to what most people might say or think, this weed is not only used by the rasta man.
The Rastafarians consider Ganja to be "The Weed Of Wisdom" as its use helps one to gain wisdom. They also use it as a religious rite and as a means of getting closer to their inner spirit.
The Herbs as it is also called carry jail time in Jamaica, most people here believe that it should be legalize.
What do you think?
Whats your take?
To post your comments here, Please used the from below.
Pages related to Ganja In Dancehall and Clubs
We value your feedback
Share your views, comments, or your take on this? Share it!
What Other Visitors Have Said
Click below to see contributions from other visitors to this page...

Keznamdi advocates for marijuana legalisation Not rated yet
Reggae artiste Keznamdi has added his voice to growing calls for marijuana legalisation in Jamaica. The 22-year-old Rastafarian believes the world has …
Toronto Reggae Singer Metussala (Mandela) Mannings held in drugs bust. Not rated yet
The RCMP have charged a Toronto reggae singer Metussala and three others in a scheme to allegedly smuggle cocaine into Canada hidden in hollowed out fruit …

marijuana LEGALIZE It Not rated yet
THE WORLD KNOWS THE MAGIC OF MARIJUANA IS TO BE FEARED LESS THAN EVEN ALCHOHOL. THEN WHY ARE THOSE FOOLS NOT READY TO ACCEPT ITS USE................. …
Return to Dancehall and Reggae Music homepage