Dancehall Reggae Group Morgan Heritage
Dancehall Reggae Group Morgan Heritage - The members of Morgan Heritage are Una Morgan on Keyboard and Vocals, Roy "Gramps" Morgan on Keyborad and Vocals, Peter Morgan - vocals, Nakhamyah "Lukes" Morgan - rhythm guitarist and Memo "Mr. Mojo" Morgan - percussion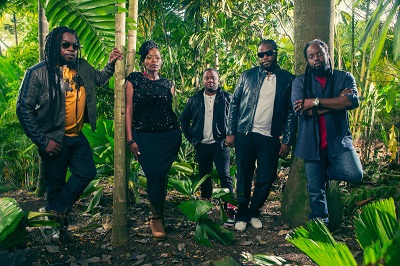 Dancehall Reggae Group Morgan Heritage
It was at a 1992 press conference held during Jamaica?s now defunct Reggae Sunsplash (the forerunner to Reggae Sumfest, Jamaica's largest reggae festival) singer Denroy Morgan introduced several of his 30 children to a contingent of international reporters. Most of the scribes in attendance were familiar with Morgan as the reggae artist who had topped the Billboard Hot 100 in 1982 with the R&B flavored hit I'll Do Anything For You?.

Morgan spoke at length about his unwavering commitment to Jah and his fruitful unions with three women that had produced (at the time) 27 children. He reflected on moving his children from their Brooklyn birthplace to Springfield, Massachusetts, so they could pursue their education without the distractions of urban life.

As devout Rastafarians, he noted, the family prayed together several times daily, observed certain dietary restrictions and commuted to Brooklyn each weekend to work on their musical craft.

Eight of Denroy's teenaged progeny formed a band, Morgan Heritage, and their first performance in Jamaica took place on the opening night of Sunsplash 1992. Their precocious musicianship and assured stage presence generated such excitement, they were invited to perform on Sunsplash's Saturday night finale, at the conclusion of the set, Morgan Heritage were met by a representative of MCA Records, who signed them, on the spot, to the label.

The Morgan's MCA album "Miracle" was released in mid 1994; it took the band a year to record and the record label even longer to figure out how to market the group. "The kind of authentic reggae that we are known for, they didn't want it, explained Morgan Heritage's lead vocalist Peetah (Peter) Morgan. ?That album was their idea of what reggae was, pop reggae." Displeased with MCA?s lack of support, the group elected not to record a second album for the label.

After three decades in the United States, Denroy returned to Jamaica, settling in the parish of St. Thomas in 1995.

For a period of approximately 18 months, the Morgan siblings divided their time between recording at Jammy?s and Bobby Digital?s Kingston studios, which resulted in two albums, Digital?s "Protect Us Jah" and Jammy's "One Calling", released by VP Records in 1997 and 1998 respectively. The group voiced their socially outspoken, spiritually empowering lyrics over the producers, one-drop rhythm tracks which yielded a contemporary roots reggae sound that was a much welcomed departure from their slick pop offerings on "Miracle".

The finely honed modern roots identity that has made Morgan Heritage one of reggae's most enduringly successful acts is showcased throughout "The Journey Thus Far", a CD/DVD compilation of the group?s finest recordings to date, plus two previously unreleased tracks.
The CD commences with the title track from "Protect Us Jah" a simple yet heartfelt prayer for spiritual strength sung over Bobby Digital?s brilliant reworking of the ?Heathen? rhythm, i.e., the instrumentation from the Bob Marley song by that name. From the same album, "Let's Make Up" demonstrates the group?s flair for love songs and features Una?s lead alongside her brother Gramps.

"Liberation" is the name of the song and rhythm track taken from Morgan Heritage Family and Friends Volume One, released in 1998 on the family's HMG label. Produced by the group alongside their father Denroy, several artists voiced on the rhythm including Capleton and Jah Cure but none was more significant than the Morgan's tune, a stirring tribute to the durability of conscious reggae music.

Heritage again reached out to Bobby Digital for his production acumen on their international breakthrough release "Don't Haffi Dread", released by VP in 1999. "Don't Haffi Dread" continued along the same pioneering path as "Liberation" and it was the first Morgan Heritage album to be recorded with them playing their instruments live in the studio, a remarkable achievement, Peetah explains, because "it was done at a time when we were told live recording will never come back to Jamaica".

"Bobby Digital has worked with everyone in the reggae business and he wanted to do something different and he had never worked recording a group live, Peetah continued, and from that point on, every record we did with him was recorded live; that was a great accomplishment for a young group. The title song from "Don't Haffi Dread" remains one of the most requested in the group?s hit filled repertoire with its easily
sung, catchy refrain "you don?t haffi dread to be Rasta" (that is, you don't have to wear dreadlocks to observe the tenants of the Rastafarian faith).

"It's not everyone with dreads who embraces the faith of Rastafari and its not every Rastaman that have dreadlocks, Peetah explained. "It was the first time any one said something like that on record, at the same time being Rastafarian. It caused a lot of controversy and got us a lot of attention even in places we had never performed."

Even the mainstream media took notice of the Morgan's who, along with their father, were featured in a special Fathers Day segment on the CBS network's longstanding Sunday Morning news program. From the same album is the jaunty "Reggae Bring Back Love", something the group does in each of their performances, and "New Time, New Sign", another inspiring testament to their Rastafarian faith.

The exquisite "Down By The River", taken from Heritage's fourth album "More Teachings", released by VP in 2001, is an anthem of renewed spiritually sung over producer Dean Fraser's flawless remake of the 1965 "What Kind of World" rhythm, popularized in a hit by The Cables.

The Morgan?s returned to Bobby Digital, with whom they have created some of their most outstanding tracks, for their 2003 VP Records release "Three In One". The romantic ?She?s Still Loving Me? has an irresistible country and western flavor that seamlessly dovetails with the band?s roots reggae sensibilities while the contrast between Peetah's emotional tenor and Gramp's soulful baritone make this one of the group's most requested tunes.

"A Man is Still A Man" is characterized by gentle harmonies, a rocking bass heavy rhythm and a timeless message that is expressed with renewed vigor: "A man is still is still a man, whether him rich or poor, black or white for sure, the only difference is, if he?s good or evil".

Also from "Three In One" is the group?s remix of their dance-reggae hit "Jump Around", a tribute to reggae that evokes Bob Marley?s 1979 disco hit "Could you Be Loved" as laminated with a 21st century punk edge.

"Before we joined the Warped Tour, we were just a young upcoming reggae act but after eight weeks of strictly punk rock throughout the summer touring with them we realized that punk rock is pretty much on the same trend as reggae: it is politically conscious, socially conscious, and it encourages people to be who they are no matter what people think of you, notes Peetah. "We were influenced by the energy and stage performance of punk rock and it brought more edge to our sound. That is why we classify our music as Rockaz music because it is reggae music that rocks."

Two of the biggest reggae hits of 2004/2005 were produced on enormously popular one-drop rhythms by Donovan "Don Corleon" Bennett and included on Heritage?s 2005 VP Records release "Full Circle".

From the group?s 10th Album "Mission in Progress" released by VP in 2008, "Brooklyn and Jamaica" produced by Shane Brown, draws gritty parallels between reggae's birthplace and the borough of kings, home to the largest population of Jamaicans off of the island. "Ask me bout Brooklyn, and how the ganja move in the streets and when you poor you can't sleep. Don't ask me bout things that I don't know, ask me bout reality and I will show."

"Nothing to Smile About" produced by Kemar "DJ Flava" McGregor, presents a heart wrenching look at the incongruity between the opulent resorts of tourist Jamaica versus the impoverished conditions endured by the majority of its citizens, underscored by Peetah's poignant delivery: "Look at that hungry child, do you see anything fi smile bout" Look at the school weh deh youth dem go fi get dem education, do you see anything fi smile bout" The sensual "Love You Right" produced by Everton Hardware (better known as Singing Melody) and Michael Steer demonstrates the group's romantic side, an aspect of their identity much appreciated by their numerous female fans.

Throughout their profound journey, Morgan Heritage has pioneered Jamaican music's popularity in such far flung locales as the Seychelles Islands in the Indian Ocean to the rural Northern U.S., where many residents had never even heard the word reggae prior to their appearances there and they've made roots reggae relevant to a generation of fans who weren't yet born when Jamaican icons such as Bob Marley, Peter Tosh, and Dennis Brown were touring the world.

Return to Top dancehall and reggae groups page from here.
Return to Dancehall Reggae music from Reggae group Morgan Heritage
Return to Top Reggae Groups from Dancehall Reggae Group Morgan Heritage

Articles On Dancehall Reggae Music You Might Have Missed ......
Also connect with Dancehallreggaeworld.com on Social Media:

 
Facebook | Twitter | Instagram | Youtube
Thank You!
P.S. Didn't find exactly what you were looking for? Still need help?
Click Here to try our dependable and effective Site Search tool. It works!
Or, simply click here and here, to browse my library of over 500 questions and answers! Chances are someone already asked (and got an answer to) your question.