calado ANG shoot "RUN" music video feat. bounty Killer & ANG
by DRW
(Jamaica)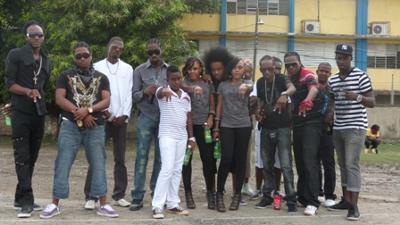 Bounty Killer, Calado & ANG
Alliance Next Generation artist Calado continues to surge forward as one of dancehall's and Bounty Killer's brightest young protege.


Since the start of 2012 he has been doing alot of recordings aiming to penetrate the hardcore dancehall fans, yet this maybe the right formula he has been looking for, as this video will surely amass a pouring in of love from the 'streets'.
The video is an underground video but will be available for the mainstream audience as he has already penned an edited version to be released soon.
The song titled 'Run', stresses on the street credibility of himself (Calado), Bounty Killer and ANG and suggests that disrespecting them in any way or form may only leave you one option, and that is to 'RUN'!!!! The song is produced by Cannon/DreDay Records and the video is directed by Cash Flow Records.
It is expected that this underground video will create a definite buzz in the streets, youtube and on internet websites. The video should be released in another week . In extension Calado along with Bounty Killer and the entire ANG Camp would like to thank all supporters and fans who came out to support this music video shoot yesterday (March 24, 2012) at the Tarrant Playfield (Off Molynes Road) in St. Andrew.
To see exclusive photos please go to the following links
(Calado Official Facebook Fan Page) CALADO ANG MUSIC VIDEO SHOOT FT. BOUNTY KILLER & ANG
Alliance Next Generation ANG Official Facebook Fan Page ALLIANCE NEXT GENERATION ANG OFFICIAL FACEBOOK FAN PAGE
READ MORE ABOUT ALLIANCE NEXT GENERATION (ANG)