STONE LOVE CELEBRATES THE BIG 40
by Nicole West
(Kingston, Jamaica)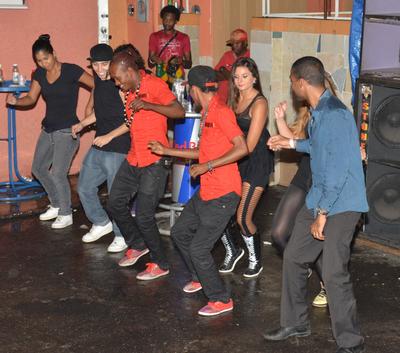 Real Connection conducting dance classes in the rain
It's fast approaching 2.00 a.m. on Thursday and not even the rains stopped the crowd from pouring into Stone Love Headquarters on Burlington Avenue for yet another occurrence of the irresistible Weddy Weddy, the signature brand of Stone Love Enterprise that offers the ultimate party experience.

Computer Science Engineer turned Disc Jockey and heir to the Stone Love empire, Duane 'Dee Pow' Powell is at the top of his game with the aid of the best standard all-in-one controller, Serato DJ and complimented by the occasional compact disc. Elevated on a two-foot high stage to hoover over the crowd and heighten the party zone, in almost no nonsense mood, Dee Pow is fully charged to deliver with the magnetism and potency that the indomitable Stone Love have become known for over the years.

A Worldwide High-Profile Brand
Named by Elephant Man and the late Bogle, some seven years ago, Weddy Weddy leads the pack in high-profile entertainment. At Weddy Weddy, expect to see the usual entertainers such as Elephant Man, Bounty Killer, Beenie Man and Ritchie Stephens who are such regulars, they hold off their own corners. Expect to see too, numerous other local and international performing and recording artistes and music producers.

But Weddy Weddy attracts more than the usual dancehall favourites. It's a place where people fly to Jamaica from all over Europe and Asia to taste this unique local experience.

Not to be outnumbered are politicians, members of the highest levels of corporate Jamaica and even representatives of the Diplomatic community as well as university students who have used Weddy Weddy as an 'institution' of learning.

Family Affair
Weddy Weddy is the true family affair and all-inclusive space. On any given Wednesday night event organisers from all over the island, promoting from book launches to Sting are in the house. Representatives from other sound systems such as Bass Odyssey and Metro Media bar competition and come out to support the visionary
Winston 'Wee Pow' Powell and the immortal Stone Love.
Selectors such as Boom Boom, spars with the in-house Disc Jockeys (DJs) in the likes of Diamond, Rory, Scary Gary, Fyah Rass, Billy Slaughter, Barry G, Genius, Geefus, Bill Cosby, Iceberg and the full entourage at Stone Love under the management of Chiney K.
Part of the family, too are, dancers such as Kangaroo, Sample Six and Diamond as well as Mad Syentist. Its also the place where young producers and sound engineers like Khalfani McKenzie of Khalfani Records come to promote their rhythms. One of the few if not the only place where in the middle of the party experience, you can get a spontaneous dance lesson from Real Connection, that goes nonstop, even in the pouring rain.
Stone Love Reigns
It goes without saying that music is life. And so in December, Stone Love celebrates its 40th anniversary under the theme, Immortalising the next 40 years: Music is life with the ultimate Giving Life party to take place on Saturday, December 29, 2012 at the Red Stripe Oval at 214 Spanish Town Road sponsored by Ciroc and Guiness.
Started in 1972 by Winston 'Wee Pow' Powell, the legend of Stone Love is that of a 17 year old fueled with entrepreneurship and who begun from scratch what has today become the world's undisputable number one sound system. A dominance that Stone Love has managed to maintain over the years. But complacency is not the order of the day for the most decorated sound system.
"Moving on to the next 40 years, Stone Love Music is currently assessing and reinventing its operation strategies with plans in place to strengthen its brand and develop the Stone Love product. All this, with a view to reinforce its dominance in the industry and diversified sub-sectors and continue to play its part in the development of reggae music and the wider creative and cultural industries", said Wee Pow.