Savage aka Savo "The Lyrical Beast'
by Tameka Chevannes
(Kingston, Jamaica)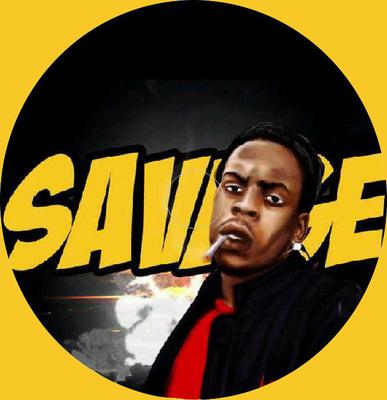 Savage
SAVAGE AKA SAVO 'THE LYRICAL BEAST' APRIL, 2014

Simon Alex Daley whose stage name is Savage aka Savo is an awe-inspiring lyricist who is multi-talented and about to set the Dancehall Reggae World on fire with his brilliant word play and amazing ability to manipulate any rhythm or beat fusing the lyrics to the versatility of his voice.

'From Gully Squad to Victory Squad'
The Evolution of Savage is one of a successful saga, introduced to the 'Movado' led Gully Squad by friend and Recording Artiste Flexx in 2009, he raged on the scene that October with the release of Mavado's Hit Single "Gully Christmas' featuring himself and Flexx on the 'Christmas Rhythm' by Stephen Di Genius. However, Savage even on the brink of a breakthrough was faced with many challenges that affected his music but he was to be guided by his personal motto "I can do all things through Christ that strengthens me".
In April 2011, Savage signed to Victory Squad Entertainment, under the direction of Rohan Fuller aka Jah Snowcone aka Victory Boss (Manager, Writer, Producer Artiste Development and Spiritual Guru) , Savage has evolved and developed as an Artiste and a Person, Savage says, 'this new direction and new environment speaks to his 'softer' and 'calmer' side "Savo" as he has adapted to mental and emotional obstacles
and physical barriers and is still in the process of becoming a better overall individual' .
'What to Expect'
With the high anticipation of his soon to be released "Mixtape' produced by Victory Squad Entertainment by Producer Jah Snowcone aka Victory Boss, entitled "Never give up-Up". Savage is set to catapult to the top of Dancehall Reggae Charts both locally and internationally
New Works include Singles such as: - Fresh From Prison- on the hot new "Nuh Fraid' Riddim produced by Jah Snowcone, Mi Nuh Know Dem, Drink, Smoke and Touch.
As well as other blazing collaborations with Beenie Man, Vegas, and Christopher Martin just to name a few.
Savage has high expectations for his Mixtape and says that fans can expect the selection of his songs to be unparallel and has high expectations as his work defines real Ghetto Youth Experiences with Spirituality-Love-Friction-Fame-Fortune-Desolation-Success".
Savage aka Savo is of the new breed of young, hype, talented Dancehall Reggae Artistes.
Savage says he knows the time is right and remains humble and guided and hopes to make a big impact and earn his reputation on the Dancehall Reggae Scene.
About the Artiste;
Record Label/Management- Victory Squad Entertainment
Manager/Booking Agent: 'Rohan Fuller' Jah Snowcone aka Victory Boss
Contact; Jamaica 1-876-504-7049
Email: victorysquad7@gmail.com
For Further information Contact:
Publicist Tameka Chevannes
ZaZa PR
Kingston, Jamaica
1-876-403-6819/1-876-832-0554