"Dancehall Night Clubs In Jamaica"
"Top Party Spots"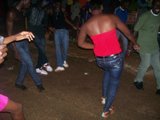 "Dancehall Night clubs" Have you ever been to one of these club?. Well if you haven't you are certainly missing out on a lot of fun.
From Hot girls, Games and the music Yes I said It "the music" along with your favorite drinks mix, I can assure you these are some of the places you should try and visit.
In my opinion there are two type of night clubs. The first is the ones you go and party(dance) have your favorite drink mixes and go home.
The second type are the ones with girls dancing on stage (otherwise called go go girls), table top games along with some hard hitting dancehall and reggae music enjoyed alongside your favorite beer or stout.
I must say that at most of these type of clubs you can have a good time with some of the girls (dancers) you know what I mean?. If you can afford them.
If you are planning to visit a club in Jamaica let me give you some of the more popular ones. In Negril "The Jungle" for partying (dancing) only. "Scruba Dub" also you will find girls on stage dancing.
"Moods" in Montego Bay, you will find girls onstage and is a place for partying (dancing).

"Margaritaville" is a great party venue with tons of food and drink. The "Ville" as we call it has 3 locations, Ocho Rios, Montego Bay and Negril. "Polly Royal" located in Ocho Rios is another club where you will find girls dancing on stage.
In City Kingston where the people party everyday of the week the "Quad" is one of the main place.
So go out and "Party Hard" and please remember to drink responsibly.

See more Dancehall Night clubs pictures here...
Other Related Topics
"The Jungle Night Club".
Montego Bay the "Entertainment Capitol of Jamaica"
Chicago Reggae "Partying In The States"
Bajan Dancehall-Clubs and Sound Systems
Popular Dancehall and Reggae Clubs
Dancehall ladies
We value your feedback
Share your views, comments, or your take on this? Share it!
What Other Visitors Have Said
Click below to see contributions from other visitors to this page...

Cowboy Dancehall Train of clubs
Return Home From Dancehall Night Clubs
Custom Search