Yard Gear - ultimative dancehall fashion from berlin! - Yard is the ultimate dancehall fashion brand for urban people addicted to caribbean lifestyle.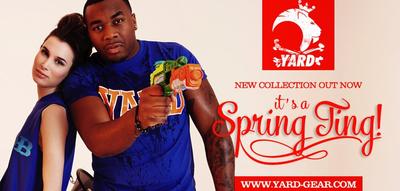 Rooted deep in caribbean soundsystem culture, Yard sets standards with authentic outstanding designs and high quality fabrics.

In caribbean patois Yard is a synonym for Jamaica itself, home - the place you belong to. International caribbean artists like Busy Signal, Mavado, Bunji Garlin and Machel Montano as well as european top soundsystems like Supersonic, Soca Twins and LP International sporting Yard's latest styles.
The lion head logo represents our roots, reality and cultjah. Strength, pride and originality in all circumstances.

Yard - real life fashion for kings and queens, hot gyals and rude bwoys. Since 2002.

www.yard-gear.com