WIN a RASTACASTA Guitar from Carl Harvey Instruments, created by Toots & The Maytals Guitarist Carl Harvey
by Jupiterian PR
(Worldwide)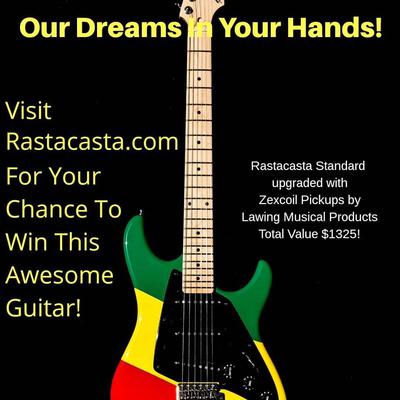 WIN a RASTACASTA Guitar
Carl Harvey, guitarist of Toots and the Maytals for over 3 decades, and founder of Carl Harvey Instruments has designed & is now manufacturing the RASTACASTA guitar and One Love Guitar Strap.


"WIN a free RASTACASTA Guitar and One Love Guitar Strap" Contest is online now
Carl Harvey Instruments Inc. has designed the first reggae guitar designed by a life-long reggae musician and intended for reggae musicians, as well as artists from other genres. Many people consider Carl Harvey to be one of the top half-dozen reggae guitarists of all time. However, that's only scratching the surface of the man and his music. Carl designed this guitar after playing other guitars for decades and wanted to customize a guitar for optimal performance, hence the RASTACASTA was born. Carl spent years designing a comfortable, easy-to-play instrument that allows the music to flow freely.
ENTER TO WIN HERE: https://carlharveyinstruments.com/pages/rastacasta-giveaway
Carl Harvey of Toots and the Maytals is arguably one of the best guitarists to come out of Reggae. For over 40 years Harvey has toured the world many times over and recorded with Reggae's greatest legends. From the studio to the stadium, Harvey has pushed his guitars to every imaginable limit. Now Harvey has created his ideal instrument - the "Rastacasta" with his wealth of experience as a guiding light. "It has to be good enough to rock stadiums and not miss a beat," says Harvey.
With the highest standards and utmost versatility in mind, every detail has been scrutinized to create the ultimate guitar for performance and tone: High-impact Rasta colors, Zexcoil pickups, "Progressive Asymmetric" neck profiles, down to fine details like pocketed fret slots. The Rastacasta is truly a player's instrument designed and constructed to meet the demands of top tier professionals.
Carl Harvey's Background: Born in Jamaica, Carl Harvey moved to Toronto, Canada with his family at a young age. Inspired by Jimi Hendrix in those early days, he picked up the guitar and Tuba at just 13 years of age. Years later, Carl has 3 Juno Awards and a Grammy to his name.
Carl Harvey's career in music spans over four decades, from the 70's
when he recorded with reggae immortals such as Jackie Mittoo, King Tubby and Prince Jammy, a decade which for Harvey culminated with Willi Williams' international smash record Messenger Man and his own first solo album Ecstasy of Mankind, which has become a much sought-after collector's item. During that time, Carl Harvey joined Crack of Dawn, Canada's seminal black funk band that has recently reunited for several concerts and an album. The group was originally signed to Columbia Records in 1975 as the first black band to be signed by a major record company in Canada.
In 1980, he joined the literal originators of the word reggae, Toots & the Maytals. 33 years later, the band remains one of the top touring reggae bands in the world and have released 30 albums, Harvey, being on more than 15 of them including 2004's
Best Reggae Album Grammy Award-winning, True Love.
Today the band has become older and wiser after thirty-eight years since they first came together – Crack of Dawn, pioneers in the dawn of funk music in Canada and are now hotter than ever.
Fast forward to 2017, the band released a new album Spotlight. It's been said that this album is some of their best work to date, hitting top of the charts in two continents and captures that youthful spirit. Spotlight continues to be played heavily on global radio & sales are charting. Spotlight was nominated for best R & B Album from the Independent Music Awards in NYC.
Carl Harvey has shared the stage with some of the world's most popular artists including The Rolling Stones, Dave Matthews and Sheryl Crow: headlining stages such as Glastonbury, Bonnaroo, WOMAD, Reggae on the River, Fuji Rock, and SummerJam along with hundreds of others worldwide.
Harvey's solo album, The Times, has received wide ranging critical acclaim as well.
Stay tuned for more instruments & accessories from Carl Harvey Instruments & make sure to like, follow, & share online.
Stop by the Carl Harvey Instruments Booth at the NAMM Conference in Anaheim, California in January 2019.
For Interviews and more information:
EMAIL: carlharveymusic@gmail.com
WEB: https://carlharveyinstruments.com/pages/about-us
https://www.carlharvey.net
SOCIALS: https://www.facebook.com/carlharveyinstruments/
https://www.instagram.com/CARLHARVEYINSTRUMENTS/
https://www.facebook.com/tootsandthemaytals/?ref=br_rs
https://www.facebook.com/CrackofDawnBand/