Uprising Roots Band - Spreading Universal message

THE UPRISING Roots BAND Uprising signifies defiance and assertiveness in actions to bring forth progressive and positive change amongst humanity.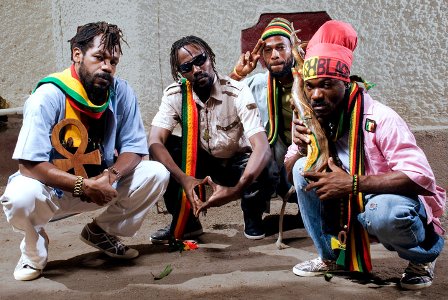 The Uprising Band utilizes music as its medium to harmonize all races, class, and creed spreading the universal message of love and equality. The Uprising Band now presents hypnotic roots, rock, and revolutionary sounds to shake the world, inspire the people and keep them skanking and dancing.
Conceptualized on January 1st 2006, this dynamic and formidable group shown below consists of six diverse members with the versatility to adapt to all musical forms. Rashawn McAnuff "Black Kush" (drums) Ruel Ashburn "Pot A Rice" (bass) Lloyd Palmer "Akinsanya" (keyboards) Philip Porter "Small Axe" ( guitar) Jeffrys Graham "Keysy" (Keyboards) Joseph Sutherland "Junior" (percussion) We have gained and continue to command the greatest respect from other artistes.
They have confidence in our ability to deliver the diverse musical accompaniment they need. We have become competent and proficient as a result of hard work and wide exposure. Our experience has resulted in a keen ear for adapting to the sounds of different musical genres. Uprising we are!! We enjoy playing interesting, entertaining, and uplifting music with good musicians and singers.
We intend to remain a well-respected band with the ability to do live performances at hotels, shows, concerts, and pageants as well as recording, a band whose shows are unique, entertaining, exciting and appropriate for all ages and venues.
CURRENT PROJECTS Focusing on releasing, the 'Rainy Night" riddim featuring various artistes including Elijah Prophet,Hyh Volume , Vania colours, Easy Wayne, Ishmael Maclaw, Jah Isa,Admiral Tibet, Fred Locks,One Thirld and Lenn Hammond. Additionally we are working on projects with Winston McAnuff, Empress and Prince Alla.
Some of their top tracks are:



1. Brighter Days
2. King Rastafari
3. Blessings
4. Skyfiya
5. Brightest Light
6. Steamers
7. Know Yourself
8. Positive
9. Marcus Garvey
To date The Uprising Roots Band has performed with many different artistes. Their diverse membership and exposure to many different genres of music makes this a dynamic band, able to adapt to meet the needs of many different audiences.
The Uprising Roots Band is a performance band in their own right and work with their own label artistes such as Vania Colours, Lee Tafari, Field Marshal and Earth Warrior.
As the owners of their own studio they are also a production band and can be called upon to compose rhythms or for live recording sessions.
Currently "The Uprising Roots" has their own label 'TruMusik Records Label' and is working on the eventual release of their much anticipated debut album.
For bookings contact: 1(876) 571-9424/1(876) 840-4049/1(917) 600-9155
Email: bookings@dpb-entertainment.com
Post Your comments/ views about this artiste below..
Post your views/comments on this artiste below also read what others have said about him/her.
YOU MIGHT ALSO BE INTERESTED IN
Return home from Uprising Roots Band page
Articles On Dancehall Reggae World You Might Have Missed ......
Jun 21, 18 06:17 PM

Dancehall Meets Afrobeat K'Coneil ft StoneBwoy Balance - NY, JA, GH (MPR Consulting) - No summer 2018 soundtrack can be complete without the addition of the hit bound single BALANCE performed by K'Con…

Jun 21, 18 11:44 AM

Bob Marley Reggae On Broadway was released by Reggae music's legend Bob Marley in 1972 on the "Columbia" record label.

Jun 20, 18 11:00 PM

Daphie Daph, Rey Nato, Iyobel, Chenaya Highest Grade - Greezzly Productions have just released a video for the song Highest Grade on his Roots & Kulcha Riddim.