Summer Bacchanal PAINTED Beach Jouvert | JUNE 30 2012 | NEGRIL JAMAICA
by BlackGold Ent
(Negril Jamaica)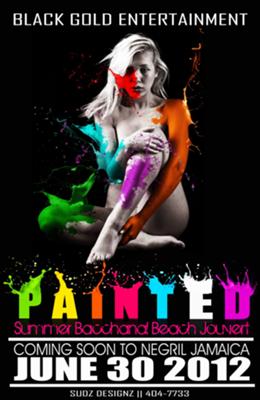 BlackGold Entertainment Presents


The Summer's hottest Jouvert
¯`°º•¤.¸¯`°º•¤.¸ (¯`v´¯) ¸.¤•º°´¯¸.¤•º°´¯¸
¯¸.¤•º° ::PAINTED-JUNE 30::: ¯`°º•¤.¸¸
SATURDAY JUNE 30, 2012 its time to get wet, wild and painnnnted.
BlackGold Entertainment **Summer Bacchanal PAINTED Beach Jouvert**
*´¨)
¸.•´¸.•*´¨) ¸.•*¨)
(¸.•´ (¸.•` ¤ PAINTED Vybz
»------(¯*FOUR LAYERS OF PAINT
»------(¯*EXTREME PAINT ZONE
»------(¯*EXTREME PAINT WORKS COMBO
»------(¯*500 GALLONS OF WATER
»------(¯*FREE FACE PAINTING
»------(¯*Free HAWAIIAN LEIS
»------(¯*PAINT PITS
»------(¯*B.G. MEGA PAINT BUCKET
»------(¯*PAINT JOB COMPETITION
»------(¯*WATER TRUCK CANNONS
»------(¯*SUPER SOAKERS
»------(¯*BEACH ACCESS
╔═══╗ ♪
║███║ ♫
║ (●) ♫
║ ║
╚═══╝♪♪The entertainment line-up features High energy disc jocks
.:-.'PAINTED'.-:.- is a mixture of spicy food, beer, rum & a fusion of soca, dancehall, hip hop, water, paint and more paint. (DRINK INCLUSIVE EVENT) What else could you ask for?
-.:-.'PAINTED'.-:.- is bound to set the tone for this and ever other summer| Negril will never look the same
We are encouraging patrons to be creative as they observe the J'Ouvert dress code. Shorts, straw hats and Hawaiian leis will be the order of the day.
FOLLOW US ON FACEBOOK AND GET UPDATES AND PROMOTIONS:
https://www.facebook.com/events/292920514093795/
OR
https://www.facebook.com/pages/Summer-Bacchanal-Beach-Jouvert-Painted/239121102768308