Roots Reggae Artiste Jahriffe Now Booking "Rasta Can't Fade" Tour
by Het Heru Entertainment/Natural Vibes
(Zion)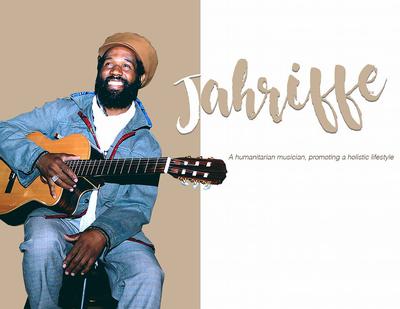 Jahriffe JAH-N-I Roots Movement
JahRiffe JAH-N-I Roots Movement


Boston based singer/songwriter JahRiffe B. Mackenzie is a diminutive dynamo of energetic musicality and Jamaican panache.
One of the torchbearers for Reggae as an Iniversal sound of healing, JahRiffe has been singing and writing songs since 1999. He founded Roots Reggae band JAH-N-I, who released their first album Rastafari Love in 2005.
An internationally acclaimed ten-song debut album led to opening live performances for Reggae greats Kymani Marley, Midnite, Anthony B., Chronixx and The Mighty Diamonds. Jahriffe has also performed as support for rising stars Kabaka Pyramid and Iba Mahr (2015). The 2013 sophomore album Check Your Timing produced instant fan-favorites such as "Empress", "You Remind Me" and Bless "The Seed". Listen here: https://soundcloud.com/jahnirootsmovement
The first half of 2017 has been eventful and blessed with many concerts throughout the North East as part of the "Rasta Can't Fade" Tour. He is slated to perform at the Organixx "Roots.Arts.Culture" Festival in Boston this July. Ever rootical, the video for the single "Rasta Can't Fade" dropped in October of 2016, is a fan favorite with over 129K views on Youtube.
Watch Video Here:
https://www.youtube.com/watch?v=lKRmIKT9QfM
JahRiffe's hopeful, compassionate and fearless lyrical offerings caught the attention of Boston's Mayor, who awarded him for his musical contributions during his live performance at the sold-out 2016 African Fashion Week in Boston.
He also won the Garrison award for best video of the year 2016 for 'Love is One'. The JAH-N-I movement is enjoying steady growth and rising popularity as JahRiffe holds firm to the upful teachings of Rasta livity.
His innate gift for the performing arts has been recognized by casting agents, as he welcomed a theatrical role in 2017 as Bob Marley in the play It's About Time, showing at the historical Strand Theatre.
JahRiffe's musical style is Classical Roots meets Old School Harmonies and American Rhythm & Blues, always brimming with Rastafari wisdom. His mission of communicating Love, Peace and a sense of purpose to the masses furthermore finds a natural outlet as a Lecturer for various schools, primarily in and around his community in Boston.
Certified Reiki practitioner and Mystic Healer JahRiffe is a loving father of two, whose "Aim is to assist others on this planet in finding their purpose and keeping the 'will' alive." He uses his tools of Music, Lecture and Performance with ancestral guidance, meditation and intuition for the betterment of all humanity.
Jahriffe JAH-N-I Roots Movement on iTunes here https://itunes.apple.com/nz/artist/jahriffe/id469738040
Now accepting offers for East Coast (Year-Round) & West Coast- August 2017 Booking contact: Het Heru Entertainment/Natural Vibes jahnirootsband@gmail.com (508) 586-0314 rasjahred1@yahoo.com
 https://youtube.com/JAHRIFFEJAHNIROOTSMOVEMENTMUSIC  http://facebook.com/JAHRIFFEJAHNIROOTSMOVEMENT  http://twitter.com/JAHNIROOTS  http://Soundcloud.com/JAHNIROOTSMOVEMENT  http://instagram.com/JAHRIFFE http://reverbnation.com/JAHNI