ROOTS OF REGGAE
by Tony Randon
(Camden Town, London, England)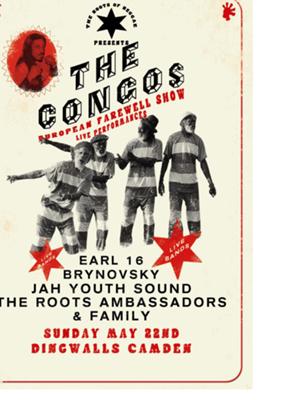 ROOTS OF REGGAE DINGWALLS LONDON

THE CONGOS * EARL 16 * JAH YOUTH SOUND * BRYNOVSKY PRESS RELEASE SUNDAY 22nd MAY 2011

ROOTS OF REGGAE PRESENT LEGENDARY ROOTS REGGAE
VOCAL GROUP THE CONGOS

By public demand, the roots of reggae massive international reggae promotions returns for its first show for 2011.

Building on the formula of spiritual upliftment through music and art. We present for this unique occasion, The Congos for the final show and party of their 18 date European tour.

With support up from popular reggae stalwart Earl 16, The uplifting sound of the roots ambassador Jah Youth Sound, and introducing uk roots dub specialist Brynovsky It promises to be a Irie party. Good people only invited.

Prepare for surprise performances from specially invited guests

On Sunday the 22nd of May The Congo?s appear at the world famous Dingwalls Camden Lock. It is the final show, of their current European tour.

Doors open from 7pm till 2pm show time 10pm

Tickets are £15 (m.o.t.d) from www.dingwalls.co.uk, www.ticketweb.co.uk and Massive International shop

Musical entertainment on the night will be provided by Jah Youth Sound the Roots
Ambassadors with full set and family.

Also introducing for the first time courtesy of Camden lock market.

THE BLACK MARKET

Featuring specially invited manufacturers of Rastafarian arts and crafts, the emphasis being on displaying strictly original handmade, organic and environmental friendly creations.

Items on sale will include: -
Tams, Crowns, jewellery, badges, bags, belts, incense, books and collectable vinyl and CDs. By international craft persons.

Market time is from 8pm till 12pm.

FOR INFORMATION RING: - 07774 253 867 OR 07904 084 816
FACEBOOK- ROOTS OF REGGAE

THE CONGOS
Formed in the mid seventies by Ashanti Roy Johnson (tenor) and Cedric Myton (falsetto) then latter by Watty Burnett (baritone) they worked with genius record producer Lee ?Scratch? Perry in 1977 to record one of Perry's and most importantly reggae music?s, most critically acclaimed album: - HEART OF THE CONGOS.

Despite the fact that it was described as "the most consistently brilliant album of Scratch's entire career? they received very little income from it and subsequently the group split in 1980 to persue solo careers.

Cedric Myton retaining the congos name and recording through the mid eighties with various backing vocals and musicians.

In the mid nineties the group reformed and following the release of the album Row Fisherman Row, (versions by reggae's top vocalist of one of the most popular songs from the Heart of the Congos album) released by UK revival label Blood and Fire in 2005.

In addition, their life rendition of the same song, in the film "Wah Do Dem", made in 2008.

An international demand for the band to tour was ignited.

Their live show encompasses the spiritual embodiment of what Rastafari inspired reggae music is about. It invokes a warm uplifting feeling within the audience.


This has since been documented on film by the Paris based label Makasound in their
?Inna di yard? acoustic series.
Congos will come with eight piece backing band live and direct from Jamaica. Plus other guest musicians and vocalist from the ?Inna di yard? sessions.
EARL 16
Is no stranger to the UK roots scene. Having served his apprentice with all the top studios in Jamaica, including Studio One, Treasure Island, Black Ark Dread at the Controls, Channel One, as well as recording for the likes of Lee Perry, Mikey Dread, Joe Gibbs etc He arrived in the UK via New York in 1985.
With a strong fan base and reputation within the reggae buying community.
After several recordings with Mad Professor, (a pioneer in the digital base orientated music of the London dub evolution) he has since demonstrated his musical versatility by voicing music by bands like UK electronica/reggae bands Leftfield and Dreadzone.
Completely at odds with the American soul influence he had as a child in Kingston Jamaica. In 1997 he signed to international label WEA, his first major label album being Stepping Out 1997.
He continues to be a prolific performer and recording artist. Having a string of underground hits on the UK and European Roots Dub scene.
Earl 16 will perform with 5-piece band and backing vocals.
BRYNOVSKY
Might sound new to the reggae fans, but Tim Brynovsky has been writing and performing music since 1983. Influenced by a live show he saw of Black Uhuru with Sly Dunbar and Robbie Shakespeare in the same year, his quest into experimental dub began.
Having met like minded musicians the band, Brynovsky is now a 5-piece band based in South-West Scotland. Five musicians, passionate about reggae and dub but with very eclectic musical influences.
Their new album Hard Curves is out now on Air Street Records.
The band plays music from Hard Curves and are about to embark on a series of gigs in early 2011. The live sounds is minimal and with powerful analogue dub tones.Tim says, "I wanted to form a natural sounding band, not just a bunch of musicians playing my tunes. They?re a great group of people, we all get on and we've had a great response from the gigs we"ve played so far."
London welcomes the band for the first time.
JAH YOUTH SOUND AND FAMILY
Having recently rocked the crowd in Italy. Jah Youth is back in session with an artillery load of dubplates. Featuring the most spiritual reggae artist on the circuit. They will set the evenings proceedings with their unique delivery of reggae music.
I. VISION provides visual backing. Be prepared to dance.
Ital food, roots tonic beverages plus full bar and condiments available on the night.
All info Facebook /Roots of Reggae
www.massive-international.com www.dingwalls.com
TEL: - 07774 253 867/ 0207 267 9490
END OF PRESS RELEASE