Reggae Sumfest CEO announces "Caribbean Love Now" Charitable Hurricane Relief Initiative for Hurricane Stricken Islands
by Caribbean Love Now Org
(Jamaica)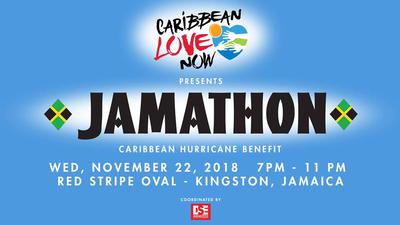 JAMATHON:Live from Jamaica! All-Star Benefit Concert
Jamaica's "Caribbean Love Now" Charitable Hurricane Relief Initiative


For Hurricane Stricken Islands
Many Caribbean Islands such as Dominica and Barbuda, are in immediate
need from the devastation that hurricanes Irma and Maria caused
throughout the Caribbean, and require ongoing humanitarian support.
"Caribbean Love Now" has been formed as an integrated relief campaign to
help with donation of resources and funds.
Joseph Bogdanovich's DownSound Entertainment/Reggae Sumfest, along
with related companies: H&L Hardware and Lumber, H&L Rapid True
Value, H&L Agro, Parkland Industrial Company, KLE, Usain Bolt's Tracks &
Records, and FranJam have put together a team of professionals and top-
level brands and sponsors to execute this multi-faceted initiative. More
companies and organizations are being added each day, and updates will
be forthcoming. To find out about partnering with Caribbean Love Now, visit
Facebook Page...and stay tuned for the launch of
www.CaribbeanLoveNow.org in the next few days.
Bogdanovich, along with Jamaican Sumfest staff and advisors, and artist
Tarrus Riley, have already commenced the #CaribbeanLoveNow campaign
by visiting Dominica, Antigua, & Barbuda and met with officials there to
personally assess the damage and discuss rebuilding efforts. 
The Caribbean Love Now disaster relief initiative includes donations of
building supplies and goods; the JAMATHON celebrity telethon and
concert; and online donation platforms.
DONATION OF GOODS 
Donations of goods from private citizens and businesses will be accepted
through collection points. Items such as tarps, batteries, solar lamps,
clothing, canned food, etc., will be collected at central drop-off locations throughout Jamaica including H&L Hardware and Lumber, H&L Rapid True Value and H&L Agro. H&L Hardware and Lumber will also be donating large amounts of building materials that will be shipped to multiple
Caribbean locations.
CONCERT & TELETHON
The Caribbean Love Now Concert and JAMATHON (telethon) is set for
November 22 from 7pm-11pm at Red Stripe Oval Premier League Soccer
venue, located at 214 Spanish Town Road in Kingston, Jamaica.
This high-energy concert has over 30 Reggae and Dancehall stars on the
bill
including Assassin, Chino McGregor, Christopher Martin, D-
Major, Devin Di Dakta, Etana, Freddie McGregor, Harry Toddler, Iba
Mahr, Jah Cure, Jesse Royal, Nesbeth, Raging Fyah, Richie
Spice, Romain Virgo, Sizzla, Stephen McGregor, Tarrus Riley, Vegas, and
more acts to be confirmed.  
All acts will be backed by Dean Fraser's all-star band with some of the
world's best players in reggae, and will be televised in Jamaica and the
Caribbean, and live streamed, and is expected to reach a huge global
audience.
The live-stream will be viewed on YouTube on the Reggae Sumfest
Channel & other platforms worldwide. Viewers from around the world can
call in or go online to make donations.
Celebrity guests will be manning the mics and phones and the entire event will be livestreamed and blasted out through Reggae Sumfest's marketing global marketing department, generating interest, awareness and donations from around the globe.
ONLINE DONATIONS
Financial support in the form of donations can be submitted on a secure
online platform. The online donation portal will also be accessed from the website and from other partnering global Reggae & Dancehall websites with large international traffic.
"Let's us help" is the cry of the Jamaican people as they witness the
devastation by hurricanes to neighboring Caribbean islands.
In a recent Caribbean Business article, Bogdanovich was quoted as saying, "Now, more than ever we have to stand up for our Caribbean brothers and
sisters. No one could have imagined that so much could have been lost so
quickly. Jamaica is in a position to help in a meaningful way, but we must act now."
Relief, Recovery, Rebuilding, and Restoration of the hard-hit areas of the Caribbean is the long-term goal of this initiative and efforts will continue as long as it is needed.
Thank you for joining the mission & spreading the word. Make sure to LIKE
our official Facebook.com/CaribbeanLoveNow
Follow us @caribbeanlovenow on Instagram & Twitter and Email us at
info@CaribbeanLoveNow.org
https://www.facebook.com/Caribbean-Love- Now-114845542609242/
https://twitter.com/CaribbeanLove__
https://www.instagram.com/caribbeanlovenow/