Pentateuch Band - Performing Reggae, Dub and Roots music

Pentateuch Band - It has been very often said that roots reggae has suffered a serious demise, almost to the point of extinction with the rise of dancehall.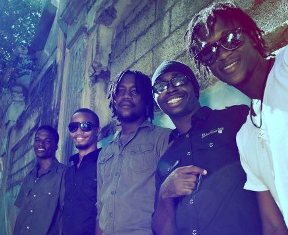 Pentateuch however has emerged to shatter this myth, with the release of their first single "Black Face".This band of five young musicians from the Kingston metropolis have exploded onto the scene with their prolific reggae anthem, which has won them hosts of adoring fans, as well as tremendous respect from loyal reggae supporters, who have felt let down by the strong imbalance in the music coming out of reggae capitol Jamaica.
The name Pentateuch is Greek and it represents the first five chapters of the bible, and was also chosen to symbolize its five members, Kevor "Vor" Williams on lead vocals, Brady "Jah Bradez" Robinson on drums, Andrew "Worm" Ayre on bass, Andrade "Dradi" Bowen on keyboards and Garth "Duckie" Forester on guitar.This spiritual and talented group was formed in 2009, in the halls of the Edna Manley College of the Performing Arts where they were all enrolled as students.
The band made its debut at the Roots Underground, Dub Tonic Cru promoted event billed "Bands Incorporated" that same year, where the response to their music was overwhelming. This positive feedback was largely attributed to their socially conscious lyrics, catchy melodic hooks, and a spectacular musical performance.
Pentateuch has become synonymous with giving their fans not only a great musical treat but also for providing food for the soul with their incessant cry for universal love. They have built a strong underground following which keeps growing at every appearance. Currently working on their first studio album with legendary hitmaker Paul "Computer Paul" Henton whose production skills have graced Jimmy Cliff's Billboard chart hit "I can see clearly now" and many others.
The world can look forward to a great album from Pentateuch, and from the indications of tracks produced so far this debut album will no doubt be a resounding hit, and the catalyst to launch the international careers of this gifted and conscious reggae band.
Share your views/ comment on this Artiste!
Do you have a great story about him/her? Share it!
YOU MIGHT ALSO BE INTERESTED IN
Top dancehall and reggae music Bands and Groups
Return home from Pentateuch Band page
Articles On Dancehall Reggae World You Might Have Missed ......
Jun 21, 18 06:17 PM

Dancehall Meets Afrobeat K'Coneil ft StoneBwoy Balance - NY, JA, GH (MPR Consulting) - No summer 2018 soundtrack can be complete without the addition of the hit bound single BALANCE performed by K'Con…

Jun 21, 18 11:44 AM

Bob Marley Reggae On Broadway was released by Reggae music's legend Bob Marley in 1972 on the "Columbia" record label.

Jun 20, 18 11:00 PM

Daphie Daph, Rey Nato, Iyobel, Chenaya Highest Grade - Greezzly Productions have just released a video for the song Highest Grade on his Roots & Kulcha Riddim.