Dancehall artiste Pamputtae Pregnant with Second Child

Pregnant for a second time, and Pamputtae says the experience has been completely different.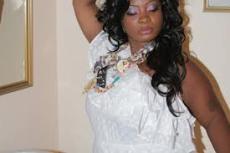 The deejay said she has been pregnant since summer.
"Being pregnant mi try to be as calm as possible. It is good, but it have little ups and downs," she said, noting that she had her first child 12 years ago.
"Mi feel good 'cause at that time I was young (16 years old). Dat time mi neva really understand bout it. That time it did kinda different. Mi did young and nuh really know," she said.
She continued, "Mi struggle too. Mi did haffi a go a town (downtown Kingston) wid mi belly and sell and run from police. Back then it was harder and mi work extra hard."
While there was help from some family members, Pamputtae says she has been receiving a lot more support the second time around.
"Now things different, lots of support. It just come in like a di first," Pamputtae said, adding that she is excited about having a baby shower, something she did not have before.
While her doctor has instructed her to stop performing two months before giving birth, Pamputtae said until that time comes, "mi tun up the thing same way. When mi a talk you feel it same way. Mi still buss a one and two wine, but not as hard as before 'cause mi want mi baby. Pamputtae neva stop do music. All when mi pregnant mi still lock down the whole city."
Pamputtae says she is scheduled to do a show in Guyana next month.
In recent times, she said she has done gospel-influenced songs like JesusA My Obeah Man and Nah Let Go, that describes her struggles. But being the hardcore artiste that she is, she recently released another song called Dash Out.
Post Your comments/ views about this artiste below..
Post your views/comments on this artiste below also read what others have said about him/her.
Below you will see the contributions from other visitors like you.
Click below to see contributions from other visitors to this page...

Return home from Pamputtae pregnant with Second Child page