My Choice Riddim Promo Mix by Dj Naz (gurlpower)
by Locksmith Records
(New Jersey, USA)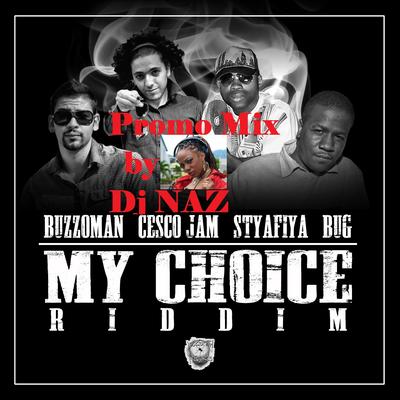 My Choice Riddim promo mix by Dj Naz (gurlpower)
Locksmith Records presents My Choice Riddim promo mix by Dj Naz (gurlpower) featuring various artiste BuzzoMan, Styafiya, Cesco Jam and BUG.


My Choice Riddim his a uptempo beat with a Reggae vibes to it, with that a Pop style. BuzzoMan & Cesco Jam from Italy and Styafiya & BUG lived in USA. The expected Release Date, October 16, 2012. World wide.
iTunes Podcast:
http://itunes.apple.com/us/podcast/my-choice-riddim-promo-mix/id430254509?i=122211423
Podomatic:
http://locksmithrecords.podomatic.com/entry/2012-10-09T08_54_02-07_00
BuzzoMan - Wine Fi Me will be very surprising to people, they might think its "Mr. Lover" (Shaggy) but no people will like the song it's unusual to hear a deep voice these days in any genre.
Styafiya - Share the Love is very catchy song at concerts, and in cars people will have fun singing to it.
BUG - My Choice is... is tuff its great for people young and old it's talks about getting an education and to love your life and we need songs like that in this time.
Cesco Jam - Dashie is great (if the youths don't understand it its okay because) the beat is tuff and the voice on the beat is tuff hey you also get to learn some countries while listening to it.
My Choice Riddim Promo Mix was done by Dj Naz (GurlPower). Dj Naz is one of the Hottest female DJ from Kingston Jamaica. follow her on twitter: @djnazgurlpower tel. #1876-861-5449 #pin 32D17191
Locksmith Records Contact Email: locksmithrecords@yahoo.com or http://locksmithrecords.com
twitter: @locksmithrecord