Mellow Mood New Album Large Releasing April 6, 2018

Mellow Mood New Album Large Releasing April 6. 2018 -    The album will be released by La Tempesta Dub in early April 2018 with a single to be released on February 23rd 2018.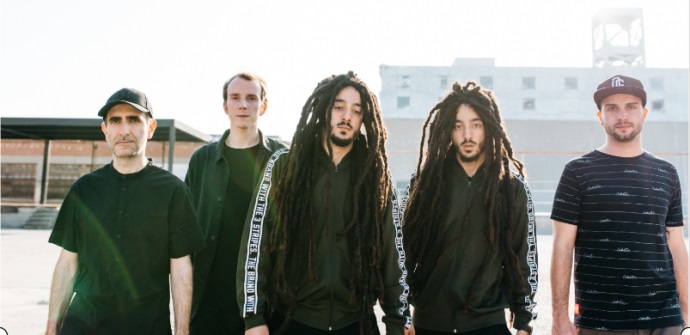 As evidenced by impressive view counts on Youtube (averaging over 20 Million views), the youthful twins known as Mellow Mood's rhythmic style coupled with bass heavyweight reggae beats make them a live dancehall favorite.
Their latest album 2 The World features Jamaican reggae stars:
Tanya Stephens, Jah9, & Hempress Sativa.   Their "Dance Inna Babylon" Video has over 48 Million Views on Youtube. Click HERE to watch
More information about Mellow Mood New Album Large Releasing April 6, 2018
Italian reggae band Mellow Mood was formed in Pordenone in 2005 but officially debuted in 2009 with their first record, entitled "Move!".
Produced by Paolo Baldini, who was later to become their sound architect, the album was intended to be their first "Move!" on the international reggae scene: totally self-released, it was an unexpected success and the two singles "Only You" and "Dance Inna Babylon"has a total of more than 48 Million views on YouTube.
Mellow Mood went back into the studio with Baldini to record

"Well Well Well" and were signed by Italy's most important independent label, La Tempesta, in 2012. Sailing through new-roots, rocksteady and tribal clubbing, Mellow Mood proved to be among the protagonists of a new generation of reggae artists hailing from all over the planet. A major European tour followed and led the band to play

in 12 countries, performing at important festivals like Rototom Sunsplash and Sziget Festival.
In 2013 two singles "Dig Dig Dig" and "Extra Love" (the latter featuring dancehall legend Tanya Stephens) revealed that the band was ready to move forward and already release new music. Going back to a more essential band line-up (without a horns section from now on), Mellow Mood coupled the rediscovery of roots music with a deeper knowledge of the most recent Jamaican sounds and released "Twinz" in 2014. The album was enriched by a number European collaborations (Portuguese Richie Campbell, Spanish Sr. Wilson and Italians Forelock and KG Man).
Less than 10 months later, "Twinz" revealed its twin: "2 The World" bore witness to the band's evolution and featured several Jamaican artists like Tanya Stephens, Jah9, Hempress Sativa, The Gideon & Selah. In late 2015 Mellow Mood also celebrated the birth of their own sub-label La Tempesta Dub (to release the band's future works) with a touring mini-festival hosting international guests.
Return to Dancehall Reggae World homepage from Mellow Mood New Album Large Releasing April 6 2018 page
Go to Italy's Reggae Music page on Dancehall Reggae World from here