The Mau Mau Warriors  - Reggae group

The Mau Mau Warriors - The Birth of Icientcy Icienty's mother.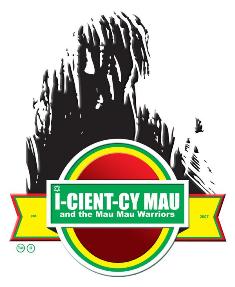 Eliza Ms Shirley Temple from Clarendon, Father Edmond Painter Williams from St Elizabeth, met in Jones Town while looking for work in Kingston. In the midist of this beautiful relation ship came three songs "Junior Desmond Williams" was the second son for the couple. Giving life to "Icientcy" a name that was given to hm from his childwood days by elders in many inner city communities, Meaning "Ancient One".
While attending excelsior hight school he read about the Mau Mau Movement that was Kenya's Militant Resistance against British Colonial Rule, that began in 1946 and ended in 1961 with many of them loosing their lives. His connection to their plight made him realized he would some day draw upon their strength and inspiration, putting it into his music.
Thus given birth to the name of his band "Icientcy Mau and The Mau Mau Warriors" after developing the Mau Mau Sound, Icientcy now set out to assemble the Warriors. Jermaine "Gadget" Reid (Rhythm Guitar, vocalist) grew up in Icientcy's hands musically.
The members of the group are:


1. I-CIENT-CY MAU (LEAD VOCALIST, WRITTER, PRODUCER, ARRANGER
2. NINA CORAL (BACKGROUND VOCALIST)
3. JEFFREY GRAHAM (KEYBOARD)
4. JERMAINE "SONG" WILSON (DRUMS)
5. DAMION BENJAMIN (BASS GUITAR)
6. JERMAINE "GADGET" REID (LEAD GUITAR,VOCALIST )
7. RICHARDO "ST. PATRICK" LAWRENCE (CONGOIST)
8. DELTON DORMER (CO-ORDINATOR)
9. FITZROY "OMAR" COLEMAN (COMPUTER TECH.)
10 ANTHONY "SPARROW" SMITH (ASSISTANCE).
The Mau Mau Warrior hit single "Can't Tek Jah Blessings" has top a number of reggae charts across Jamaica, USA and Europe.
Other top singles from the Mau mau are:
Struggle
Works To Do
Caan Follow None A Dem
WTD Dub Mix
Cfnad Nya Mixx

Post Your comments/ views about this artiste below..
Post your views/comments on this artiste below also read what others have said about him/her.
Return home from Mau Mau Warriors reggae band page
Articles On Dancehall Reggae World You Might Have Missed ......
Jun 21, 18 06:17 PM

Dancehall Meets Afrobeat K'Coneil ft StoneBwoy Balance - NY, JA, GH (MPR Consulting) - No summer 2018 soundtrack can be complete without the addition of the hit bound single BALANCE performed by K'Con…

Jun 21, 18 11:44 AM

Bob Marley Reggae On Broadway was released by Reggae music's legend Bob Marley in 1972 on the "Columbia" record label.

Jun 20, 18 11:00 PM

Daphie Daph, Rey Nato, Iyobel, Chenaya Highest Grade - Greezzly Productions have just released a video for the song Highest Grade on his Roots & Kulcha Riddim.