Matisyahu Reggae and Pop muisc singer

Matisyahu was born on June 30, 1979 in West Chester, Pennsylvania, USA.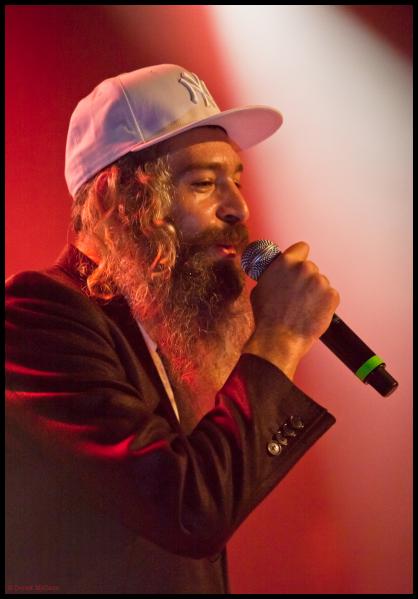 His birth name is Matthew Paul Miller, this American singer music is consider to be Reggae and Alternative Rock.
Even though musically he has been performing since 2004, his big break did not came until in 2006.
The released of the live version of his hit single "King Without a Crown' plumetted him into the Top Ten of the Modern Rock Top 10 Chart.
He has so far released three (3) live albums:
1. Live At Stubb's on April 19, 2005, produced by JDub/Or Music
2. Live at Twist & Shout on August 25, 2009, produced by Epic
3. Live at Stubb's Vol.2 on February 1, 2011 for MRI Associated labels.
Studio Album
1. Shake Off the Dust...Arise---2004
2. Youth---2006
3. Light--2009
In 2005 and 2006 he toured extensively in the United States, Canada and Europe; and made a number of stops in Israel, including a performance as the supporting act for Sting in June 2006.
In late 2006, he released No Place to Be, a remix album featuring re-recordings and remixes of songs from all three of his earlier albums, as well as a cover of "Message in a Bottle" by The Police.
Although he mostly performs Pop Music, Reggae music is also a big part of his music category, he has work with veterans dancehall and reggae Grammy producers Sly & Robbie.
The genres of music which he now performs are Reggae, Reggae Fusion, Alternative Rock and Hip Hop.
He is a Hebrew name and thus he fuses tradional Jewish themes with reggae, rock and hip hop beatboxing sounds.
He has performed with Kenny Muhammad, a Muslim beatboxer. He also recorded the song "One Day" along with Akon.
He is featured on Trevor Hall's single "Unity" from his self-titled album. Matisyahu is also featured on "Roots in Stereo" and "Strength of My Life" from P.O.D.'s album Testify.
Matisyahu collaborated with Infected Mushroom on the song "One Day", as well as during various live sets.
We value your feedback
Share your views, comments, or your take on this? Share it!
What Other Visitors Have Said
Click below to see contributions from other visitors to this page...


Matisyahu "Confidence" featuring Collie Buddz Not rated yet
On June 3, Matisyahu will release his fifth studio album Akeda (Elm City Music) and HIGH TIMES has the exclusive premiere of the track "Confidence" featuring …
Jewish Reggae Singer Matisyahu album 'Spark Seeker' is #1 on Billboard Reggae Not rated yet
Spark Seeker is an album by American Jewish reggae singer Matisyahu, which was released on July 17, 2012. It is his fourth studio release, and follows …
Jewish Reggae music singer Matisyahu kicked female photographer in her face Not rated yet
International Jewish Reggae music singer Matisyahu reportedly kicked a female photographer in her face on Wednesday December 28, 2011, the impact cause …
Return home from Reggae and Pop singer Matisyahu page