Kapri set to release video for 'Bad By Myself'
by Sasha world
(PA)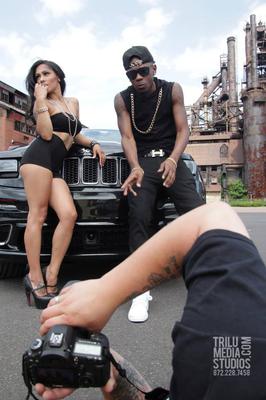 US-based dancehall prodigy Kapri, is making huge strides in the dancehall arena on both the local and international markets.

Armed with spit-fire lyrics and a natural knack for music, the dancehall sensation is ready to make a lasting presence in the dancehall fraternity. Kapri will be releasing the much anticipated video for his latest single on the Seanizzle's Happy Boulevard rhythm, Bad By Myself.

another project

Being long time friends, Kapri was elated to be working with Seanizzle on yet another project.

The video was shot and directed by world-renowned director Joshua Ramirez, who has worked with major artistes from all over the world. The two met last year at a RedFox Video shoot, and found a mutual respect for each other and began working together. They soon linked up for Bad By Myself and the rest is history.

The video was shot in the same location as the Transformer 2 Movie in Bethlehem, Pennsylvania, a protected landmark of American history. The video features fast cars and bikes and shows a vibrant and up-beat Kapri in various shots.

"Mi give Ramirez full creative control and he came up with the concept. Of course, mi put in my input too. The video bad and mi know say this one going to be a favourite," he said.

The video will premier on all of Jamaica's top TV stations and program to include CVM'S Hitlist, Hype TV, MDTV, etc.

The lyrical genius has made his way to a successful career in music and will continue to produce more hit singles for the rest of the year. Fans can look forward to Kapri's upcoming EP called S.O.G, which will feature a famous Philly rapper and a well-known singer from Queens.